Viburnum leaf beetle (Pyrrhalta viburni)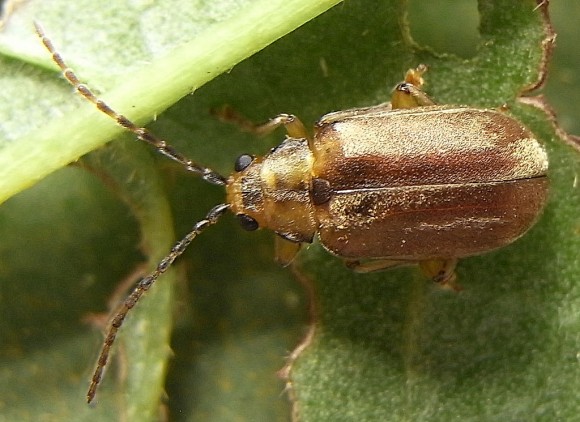 The viburnum leaf beetle (VLB) is native to Europe and was first found in the United States (in Maine) in 1994. It was first found in Illinois (Cook County) in 2009. In 2012 and 2013, the number of reports increased from Cook County and also from DuPage County. In late summer 2014, there were numerous reports from Cook County and some specifically from neighboring Winnetka, where complete defoliation was reported—only five miles from the Garden!
The VLB larva and adult both feed on foliage and can cause defoliation, and several years of defoliation can kill a viburnum. If you live in the area, I strongly suggest you begin monitoring your viburnums for this critter. There are many great university-created fact sheets for VLB that can be found online or contact the Garden's Plant Information Service for additional information. Please report new finds to the Illinois Natural History Survey, Illinois Department of Agriculture, or University of Illinois Extension Service. 
Many people ask us: is it true that some viburnums will not be affected by the viburnum leaf beetle?
Viburnum leaf beetles prefer viburnums with little to no hair on the foliage. Plants grown in the shade also exhibit more feeding damage. The University of Illinois Extension has placed viburnums into four feeding categories: highly susceptible, susceptible, moderately susceptible, and most resistant. Viburnum species such as arrowwood (V. dentatum), European and American cranberrybush viburnum (V. opulus, formerly V. trilobum), wayfaringtree viburnum (V. lantana), and Sargent viburnum (V. sargentii) are in the highly susceptible and susceptible categories and can easily be destroyed by repeated infestations of the viburnum leaf beetle. Moderately susceptible species such as burkwood viburnum (V. burkwoodii), blackhaw viburnum (V. prunifolium), and nannyberry viburnum (V. lentago) may exhibit varying amounts of susceptibility, but are usually not killed, depending on the species. Other viburnums, such as Koreanspice viburnum (V. carlesii), Judd viburnum (V. x juddii), and doublefile viburnum (V. plicatum), are resistant to viburnum leaf beetle, will show little or no feeding damage, and are capable of surviving slight infestations. Please contact Plant Information Service at (847) 835-0972 or plantinfo@chicagobotanic.org for susceptibility questions on specific species.
The Garden is a member of the Sentinel Plant Network, a group that unites botanic gardens in monitoring and providing education on exotic plant pests and pathogens, and works in partnership with the National Plant Diagnostic Network (NPDN).
If you are a plant and bug person like me, please consider becoming a NPDN First Detector and help be on the lookout for these exotic invasive plant pests and pathogens. The NPDN offers an online training course to become a First Detector at firstdetector.org. It's free, and upon completion, you even get a printable certificate!