Panicum virgatum 'Dallas Blues'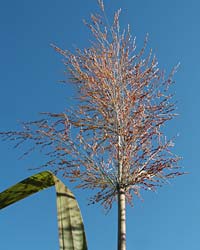 A tall-grass prairie native that adds beauty to gardens and nurtures wildlife, switchgrass is now being considered as a potential new fuel source. Divided into two types, upland and lowland, there are 37 cultivars of switchgrass (Panicum virgatum), including the popular ornamental 'Dallas Blues'. All varieties of switchgrass are resistant to many pests and plant diseases.
In January 2006, President George Bush cited the importance of research into "cutting-edge methods of producing ethanol" and mentioned switchgrass as a possible source. The most promising cultivars for bioenergy are 'Alamo' in the deep south, 'Kanlow' for mid latitudes, and 'Cave-in-Rock' for central and northern states. If used to produce bioenergy, switchgrass will reduce the risk of global warming by replacing fossil fuels (coal, natural gas and oil). The process is a bit complicated, but agronomy professor David Bransby of Auburn University has elegantly summed up the benefits of turning to switchgrass for fuel.
When fossil fuels are burnt, explains Bransby, carbon is removed from below ground (gas and oil wells and coal mines) and released into the atmosphere as carbon dioxide (CO2) — the greenhouse gas that increases the risk of global warming. Switchgrass, like all other plants, removes CO2 from the atmosphere, incorporating it into plant tissue both above and below ground. The accumulation of carbon, especially below ground in plants, is considered an important strategy for reducing atmospheric CO2, and switchgrass is one of the best crops for achieving this "carbon sequestration."
When above-ground switchgrass is harvested and burned for energy, CO2 is again returned to the atmosphere from where it was originally obtained by the plant, but it will have reduced the need for some fossil fuel, according to Bransby. As live switchgrass and other plants absorb the emissions, a CO2-neutral process emerges as the CO2 is recycled. Bransby also points out that, when compared to low-grade coal, burning switchgrass for energy will "probably" result in less toxic emissions, such as the oxides of sulphur and nitrogen.
If switchgrass can be proven to be a profitable source of energy for producers, farmers, and consumers, the plant may achieve prominence far removed from its place on the prairie. Switchgrass can produce high yields with very low applications of fertilizer, greatly lessening the need for agricultural chemicals and making it appealing as a crop, along with its perennial nature. Bransby suggests that co-firing switchgrass with coal to produce electricity in existing plants offers "one of the best near-term prospects." Bioenergy from switchgrass isn't intented to compete with fossil fues, he adds, but rather to complement them by softening their environmental impact.
'DALLAS BLUES' SWEEPS INTO EVENING ISLAND AT THE CHICAGO BOTANIC GARDEN
Panicum virgatum 'Dallas Blues' is a beautiful, broad-bladed grass that has the widest and bluest-green foliage of any of the native switchgrasses of the tallgrass prairie. A warm-season grass discovered in Dallas, it possesses the constantly changing ornamental qualities treasured in great grasses. The first shoots emerge in late spring, revealing the blue-green foliage that makes an impact, whether massed on hillsides or planted as backyard specimens. At first, the bright foliage forms loose clumps, but as it grows, its habit evolves into an upright, slightly open look. Late in summer the plant's tall stems produce clouds of tiny, plum-colored flowers that, from a distance, give the impression of huge, full flower heads that both gardeners and sports fans in Dallas claim are as large as footballs! You can see them now in broad sweeps at Evening Island.
The contrast of texture and color in the wide bands of blue-green foliage with the lacy, see-through reddish flower plumes is distinctive with this 4- to 5-foot grass. The flower panicles persist for months and are excellent additions to cut-flower arrangements. Even in fall, the foliage remains blue while the flowers' reddish-purple tones intensify. The tiny seeds are prized by foraging songbirds and other wildlife that find the sheltering clumps a welcome cold-weather home. (Gardeners can rest assured that reseeding is not a problem; 'Dallas Blues' is not invasive.) Wintry weather affords a fourth season of enjoyment as the rustling grass blanches to creamy tones and stands tall even under the weight of snow.
'Dallas Blues' is quite obliging about its culture. Like all ornamental grasses, it requires adequate moisture its first year of growth, but once established will tolerate either dry or moist sites. It prefers full sun but can do with less. The strong rhizomatous root system that enables the grass to withstand prairie fire and still spring to life the following year makes this switchgrass a good candidate for stabilizing sloping hillsides or shoreline banks.
This is a strong native plant, a memory of the region's prairie heritage. Along with flowers and foliage, seedheads and stems, 'Dallas Blues' brings music and dance to the garden.