As the weather changes and true fall sets in, all eyes turn to the trees.
It's a smart time to take a walk in the neighborhood, to really look at which trees are growing there and what colors they turn in fall. Then take the next step: have a critical look at your own yard. Is it time to plant a tree or shrub? If so, what kind might be right for your yard, and what fall color would be a smart addition for your home, your yard, and your neighborhood?
Often, the talk turns to red. But a visit to the Garden during October reveals the diversity of colors in nature's crayon box—yellow, orange, burgundy, bronze, purple, gold, tan, and red—and the wide-ranging choice of trees that produce those fall colors. In this edition of Smart Gardener, we'll focus on the wealth of golds.
Discover gold
Yellow draws the eye, stands out against green, and lights up a dark spot. At the Garden, there's gold to be discovered in all of our gardens and natural areas.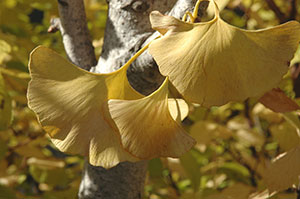 Ginkgo trees (Ginkgo biloba) are unrivaled for "striking gold"; the fan-shaped leaves seem to gleam in late-day autumn light. Cross the bridge to the Japanese Garden and turn right for a glorious stand of ginkgoes—then cross the Arch Bridge for a handsome example on Evening Island's main path.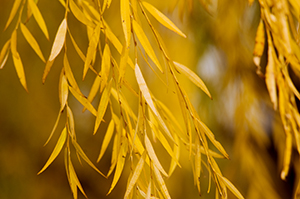 Weeping willow (Salix) sets the gold standard at the Garden, where it's our signature tree. Large and graceful, they shimmer with golden leaves in fall, especially when there's wind in those willows. Just past the Visitor Center bridge, the Crescent Garden is lined with weeping willows by the water, which is where willows like to be.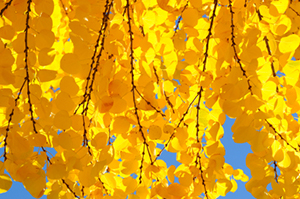 Katsura trees (Cercidiphyllum magnificum, or Cercidiphyllum japonicum—the larger species type) are beloved for their heart-shaped leaves that turn yellow-to-apricot in fall. After a rain the fallen leaves of these medium-sized trees smell sweet—a bit like brown sugar or cotton candy—as they start to decompose.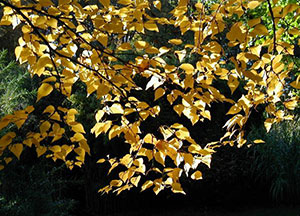 Birches (Betula) of several species—gray birch, sweet birch, paper birch—turn yellow and gold in fall. One favorite spot for birch- and bird-watching is the bed surrounding the Regenstein Center's main steps. There, landscape architect Dan Kiley created a mini-forest of birches to be marveled at from both inside and outside the building as the foliage turns.
If you need a shrub rather than a full-sized tree, native witch hazels put a twist on fall color, with yellow flowers that bloom amid the yellow leaves. 'Harvest Moon' drops its leaves early, the better to enjoy its starburst flower display. It's one of the landscape candidates now being trialed in the Bernice E. Lavin Plant Evaluation Garden.
Shrub willows are a modern choice—their color doesn't end with fall, as the stems turn brilliant shades of yellow-to-orange in winter (great for late-season floral arrangements!). At the Kleinman Family Cove, a half dozen different varieties create quite a show—and a great place to compare/contrast varieties.
Some conifers go gold, too. In the Dwarf Conifer Garden, two larches—the European larch and the Japanese larch—are deciduous conifers with needles that burst into bright yellow color before they fall from the tree.
Dogwoods are planted to transition from yellow to orange to red at the top of the Waterfall Garden—look for the bright golden yellow leaves of the yellowwood tree as you head down the steps there, too.
Nina Koziol is a garden writer and horticulturist who lives and gardens in Palos Park, Illinois.