Animal, Vegetable, Miracle:
A Year of Food Life.
---
"After recent precipitous changes, three-quarters of all human food now comes from just eight species… Modern U.S. consumers now get to taste less than 1 percent of the vegetable varieties that were grown here a century ago."
---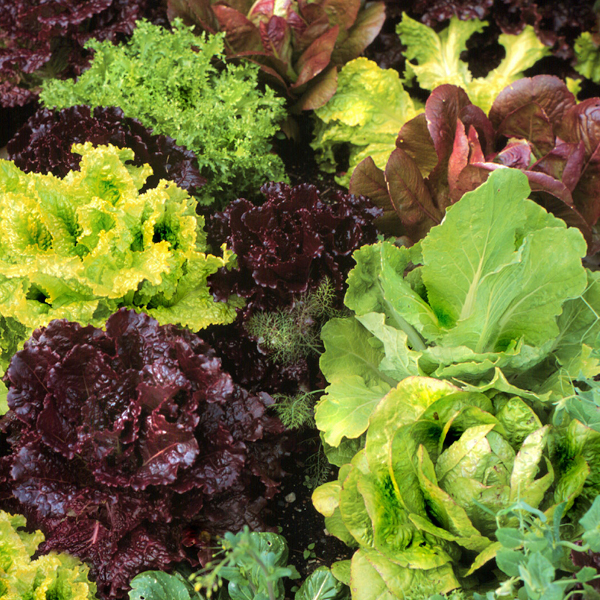 Think about your own vegetable garden: Are you planning for diversity this spring? What could your first salad of the year look and taste like if it incorporated more diversity?
In our February 2013 Smart Gardener, we talked in detail about how to start seeds for spring. This month, we'll talk about what to start for spring—and that means cool-weather-loving lettuces and greens.   
---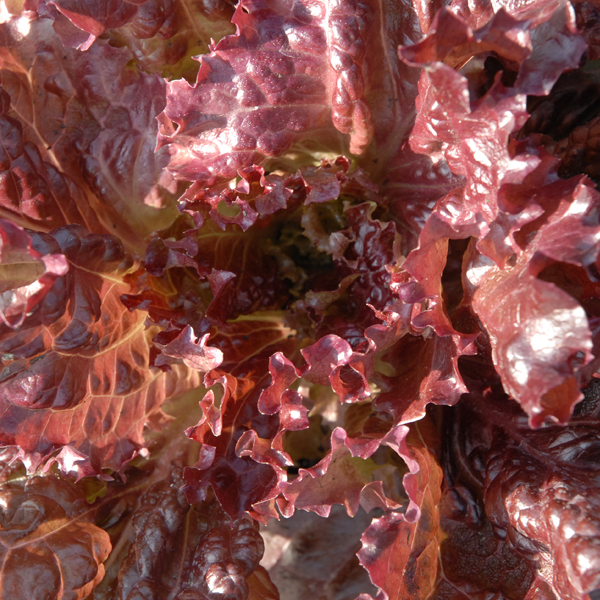 New Red Fire lettuce (Lactuca sativa 'New Red Fire')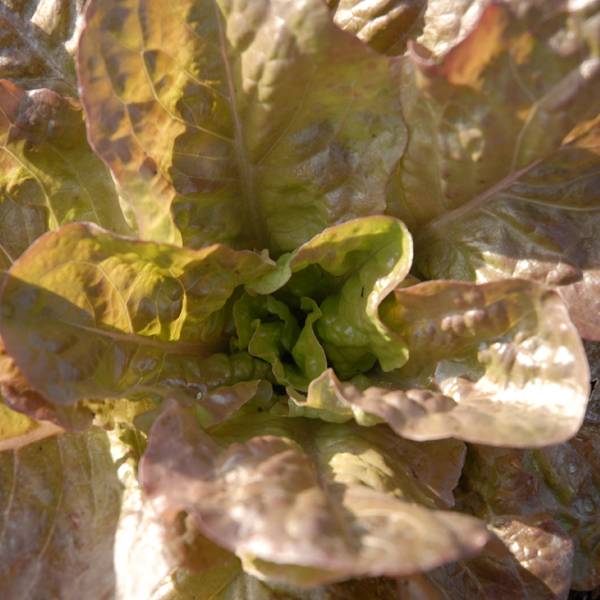 De Morges Braun romaine lettuce (Lactuca sativa 'De Morges Braun')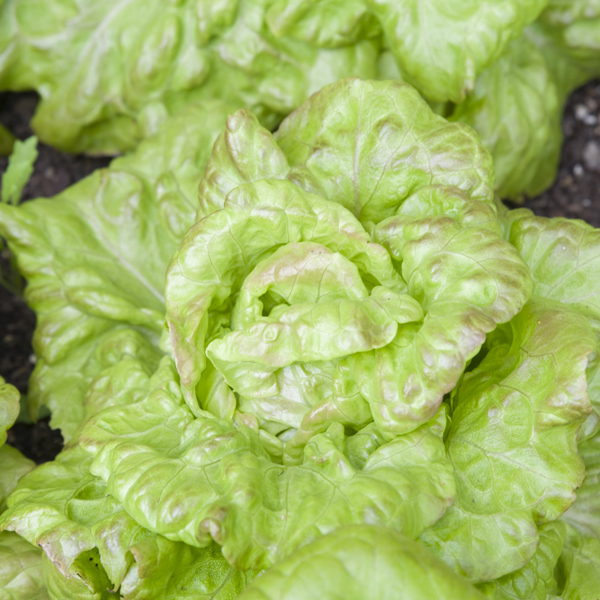 Lactuca sativa 'Indiana Amish'
A few lettuce options
While the word "salad" once meant a handful of blah-tasting lettuce or a chunk of iceberg, today the word conjures a plate full of diversity: different shades of green and red leaves in dozens of shapes and sizes, full of tastes and textures sweet to bitter, mild to spicy, buttery to crunchy. If you've been growing just one favorite lettuce variety over the years, now's the time to add the greens that make the first salad of the season sing.
Mâche rhymes with squash and nosh, but if that name throws you, call it by one of its other common names: corn salad or lamb's quarters. If you're only making room for one new green this year, make it mâche. Already famous in European gardens for its deliciously nutty taste, mâche is also famously cold tolerant—it can actually grow through Chicago winters in a cold frame or hoop house. Start seeds indoors in March and transplant as soon as soil temperatures rise above 40 degrees Fahrenheit. Use the leaves as one of many ingredients in your first salad of the year, but be prepared: you'll be making mostly-mâche salads soon.
Arugula, or roquette, may have crossed your plate and palate in restaurant salads or entrees, but it's a revelation when freshly picked from the garden and added to a home-grown salad. Spicy arugula is a speedy grower—just 35 days start to finish—so sow it straight into the garden, leaving extra space for re-sowing every two weeks before summer's heat arrives.
Mizuna is a Japanese mustard green with a mildly spicy flavor. Its long stalks and toothed leaves stand out in the garden, and in a spring salad—plant plenty, as you'll be using it in stir fries, too. Treat mizuna as a "cut and come again" green (meaning that it grows back after cutting).
Tatsoi goes by the name "spoon mustard"—a reference to its spoon-shaped leaves that form a rosette so beautiful that it's not out of place in a flower bed. Pluck baby tatsoi leaves for salads in just three weeks, or let the rosette develop fully for 45 days. Then use the sturdy (and spicier!) greens for braising, grilling, or stir fries.
Frisée is an endive that's a showstopper in the vegetable garden—a dense, round cluster of frilly leaves that go from green to creamy white at the center. Individual leaves add a bit of tart crunch to a spring salad. Eventually you'll experiment with the classic French salade lyonnaise: frisée topped with lardon (similar to pancetta or bacon), croutons, and a poached egg, which lends its liquid yolk to the salad's delicious dressing.
And then there are the lettuces
Today there are hundreds of varieties to choose from, including a good number of heirloom varieties. (Check out Seed Savers Exchange at seedsavers.org for a truly great selection). Out in the Fruit & Vegetable Garden, horticulturist Lisa Hilgenberg has chosen two very different lettuces to plant in the cold frames.
'Tom Thumb' takes two months to form a 6-inch butterhead that epitomizes the idea of "farm to table"—the soft rosette can be harvested whole, washed, trimmed, and simply set on a plate for a truly memorable salad. Sow seeds directly into the garden after the last frost date (you don't want frost to damage its lovely, pale green leaves).
'Red Saladbowl' is a classic red oakleaf lettuce, with deeply lobed, slightly ruffled leaves that build to a beautiful rosette in about 50 days (baby leaves can be harvested in just 28 days). It's slow to bolt, too.
---
Still undecided about which lettuces and greens to grow?
Diversity is built into the many lettuce/greens seed mixes available through catalogs or nurseries. A sample from the mixes available at Renee's Garden (reneesgarden.com): "Asian Baby Leaf Mix," Edible Landscape "Stardom," and "Heirloom Cutting Mix." A mix makes it easy: just sow and grow, knowing that you're instantly adding more diversity to your spring garden.
Wishing all smart gardeners a delicious first salad of the year!
---
Karen Zaworski is a garden writer and photographer who lives and gardens in Oak Park, Illinois.