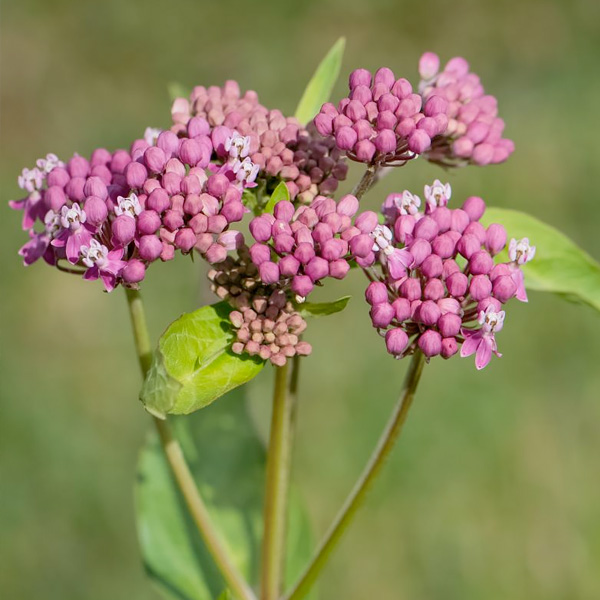 Stand still and close your eyes in the Chicago Botanic Garden's Dixon Prairie on a warm day in August and you'll likely hear the hum of countless bees and the chirping of crickets and other insects. You may notice the wind rustle the leaves of tall switchgrass or the sharp "chip" calls of migrating birds as they search for seeds on coneflowers and coreopsis.
The Dixon Prairie is a wonderful 15-acre re-creation of six distinct prairie ecosystems that once spanned thousands of acres across Illinois and other midwestern states. If you haven't strolled through this part of the Garden, late summer is a good time to do so. There are more than 250 species of native plants on this open, rolling landscape. Many of the tall, late-blooming perennials are an important nectar source for our native pollinators.
Here are just a few prairie plants that would make delightful companions for sun-loving perennials in the home garden.
By late July, swamp milkweed is in its glory and the cinnamon-scented pink flowers last a month or more. The flowers attract nectar-seeking bumblebees and honeybees, as well as several butterflies, including swallowtails, greater fritillaries, and skippers. A desirable, well-behaved plant, swamp milkweed favors wetland habitats, but will grow in any good garden soil. This perennial wildflower ranges from 2 to 6 feet tall depending on conditions. In dry sites, the plants tend to be shorter and more compact. Female monarch butterflies lay their eggs on the underside of the leaves.
Need more plant information?

Check out the Plant Finder to locate where these plants and others grow at the Garden.

Read blog posts about prairie plants.

Visit our Plant Information Service and find information on plants, pests, and more.
---
Nina Koziol is a garden writer and horticulturist who lives and gardens in Palos Park, Illinois.