Handmade Wreaths by Ever-Creative Staff
Ring in the holidays with an idea that smart gardeners can appreciate: do-it-yourself wreaths made from dried and everlasting plant materials.
The Garden's own "Martha," program horticulturist Nancy Clifton, made several of the wreaths in Krehbiel Gallery and offers up three basic ideas for a single-subject wreath.
Forage in your yard and neighborhood all year long. You'll be surprised by the diversity of pine cones, dried grasses and flowers, and seedheads/seedpods you can collect during the course of the year.
When working with a single material, look for uniformity of size and color. The idea is to show a subject off to its best advantage en masse.
Attach materials to a grapevine or wooden wreath base in one direction, clockwise only—the look of an "endless" wreath is much simpler to achieve than a wreath that travels in opposite directions.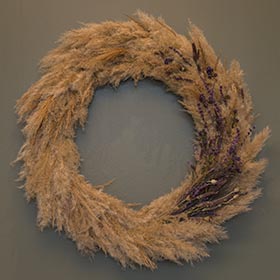 By wrapping materials onto a grapevine base with raffia wire as she worked, the Heritage Garden's Jen Rioux applied the same technique to dried grasses that's usually reserved for evergreen boughs. The gloriously fluffy pampas grass (Cortaderia selloana) was harvested from the Sensory Garden.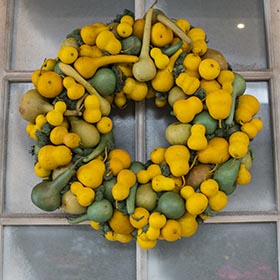 A hoard of gourds layers into a bright, sunny circle. One of several single-subject wreaths that Nancy Clifton created for the halls of Wonderland Express, it's made from purchased gourds that have been dried and treated, so they'll last for several years.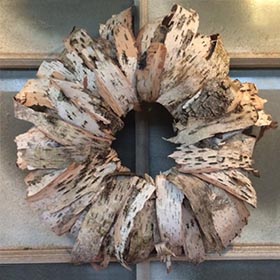 A few steps down from the gourd wreath is another Nancy Clifton creation, made from birch bark. Its natural curl lent itself to a modern, minimalist wreath; a wooden base, rather than a circle of grapevines, plus extra-hot glue helped to secure each hand-torn strip.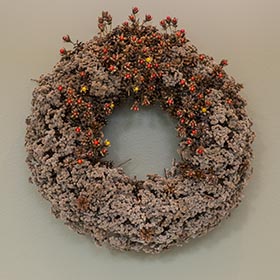 Dave Sollenberger worked in the Dixon Prairie before becoming the manager of the Dixon National Tallgrass Prairie Seed Bank. His wreath documents his Garden history: the main ingredient, mountain mint (Pycnanthemum virginianum), was collected in the mesic prairie; accent jack pine cones were found along the outer road; and red and yellow crabapples are held by native hibiscus seed capsules from the Rainwater Glen at the Daniel F. and Ada L. Rice Plant Conservation Science Center. For extra thickness, Dave wrapped additional grapevines around the original wreath base.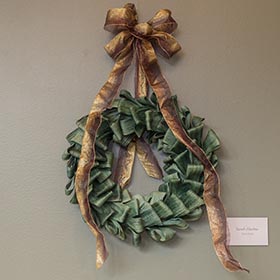 The idea started at the grocery store, where corn husks for tamales were a quick and inexpensive purchase. But it took Sarah Harlow's creative eye (she works in Visitor Events & Programs) to soak them in a bucket of green dye and fold them into wreathy ribbons. Creative moms are already thinking that it's a great project for the kids.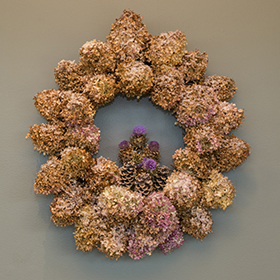 Wondering what to do with all the hydrangea flower heads in your yard? Organize them symmetrically on a grapevine wreath, then add something spectacular at the center—for plant care specialist Tom Fritz, it's dried lotus pods and flowering artichokes.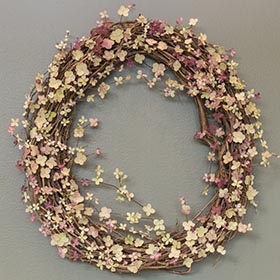 The inspiration for this minimalist hydrangea version? Cherry trees in bloom. Horticulturist Ayse Pogue and assistant horticulturist Francisco Manrique deconstructed and artfully placed the dried blossoms of panicle hydrangeas from the Elizabeth Hubert Malott Japanese Garden, plus smaller hydrangeas from home. The delicate-looking result is a wreath for any room, in any season.
A ring of fire, grown at the Regenstein Fruit & Vegetable Garden by horticulturist Lisa Hilgenberg. Concentric circles of 'Chilly Chili' peppers (ornamental peppers bred for color, not heat), pungent sage, and dried bamboo leaves let the natural beauty of each plant shine through. 2016 is the International Year of Peppers: join us for Pepper Sundays throughout the summer!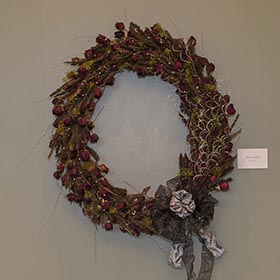 Got roses from Valentine's Day, anniversaries, parties? Save them, dry them, and turn them into a dramatic-for-any-holiday wreath as senior horticulturist Tom Soulsby has. Of course, all of the roses came from the Krasberg Rose Garden he so beautifully maintains.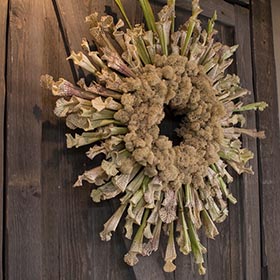 The power of a single flower: dried pitcher plant (available wholesale or through florists) stunningly illustrates Nancy Clifton's point about the beauty of uniformity. She added just a fluff of reindeer moss at the center.
---
Karen Zaworski is a garden writer and photographer who lives and gardens in Oak Park, Illinois.