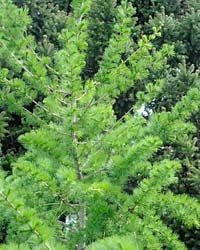 When gardeners think of conifers, they usually think of evergreens. If you observe the conifers at the Chicago Botanic Garden, there are a few that turn golden in fall and drop their needles each winter. It's not because they are sick or diseased; it's simply what they do. Larches belong to a special group of plants called deciduous conifers. Like maples and oaks, they produce fall color, shed their foliage, and go into dormancy during the winter months.
During summer, larches offer a soft, sleepy sort of beauty with their horizontal main branches and gracefully drooping branchlets. Their overall texture is very soft due to the small, slender needles that emerge bright green in spring, turn to a deeper green in summer, and finally an ochre yellow in fall. Tufts of needles emerge and radiate from small cushionlike nubs along the stem.
At maturity they can reach a height of 75 feet or more. In youth, they display a pyramidal outline that can become somewhat irregular with age.
As with all conifers, the larch produces cones. The female cones are very beautiful in spring as they turn from a succulent, translucent, reddish pink to a yellowish green. Later, the inchlong cones harden somewhat, turn yellowish brown and are slightly fuzzy.
Because of their size, larches are best used on large properties, parks, or golf courses. They can be used singly as specimens or grouped closely to create a screen. Larches grow best with sufficient moisture, in well-drained soil and full sun. They are considered medium to fast in their rate of growth — sometimes up to 2½ feet per year when young and vigorous.
The Garden has a variety of larch species in its collections, with the European larch, Larix decidua, the most prevalent. The Japanese larch, Larix kaempferi, and the American larch, Larix laricina, are planted along the east and west roads of the Garden. Additional larches can be viewed in the Bulb, Native Plant, Sensory, and Elizabeth Hubert Malott Japanese Gardens, as well as massed along the water's edge at the bridge to the Regenstein Fruit & Vegetable Garden.