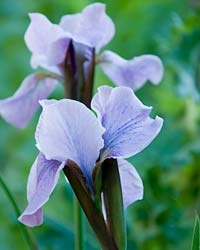 What is your image of an iris? Gardeners tending small-space or container gardens might think of the early-blooming, bulbous dwarf iris (Iris danfordiae or Iris reticulata) — the 4- to 8-inch, often fragrant, sometimes bicolored beauties that sparkle in rock gardens and raised beds. In time, they can form colorful ground covers, often sporting several flowers per single stem.
Cottage gardeners would claim the showy bearded iris as their garden classic — the 2- to 4-foot blowsy queen of the perennial border, with three characteristic upright petals (standards) and three hanging sepals (falls), the centermost sepal featuring the short hairs or beard. Naturalistic gardeners or those gardening at water's edge might be quick to think of the Siberian iris (Iris siberica), or the water-loving blue flags (Iris versicolor, Iris virginica var. shrevei) that anchor shorelines and streambeds. For others, the iris of their dreams is the late-blooming Japanese iris (Iris ensata syn. kaempferi), with its much photographed but oh-so-fleeting, orchidlike flowers. And the images continue.
What most gardeners might not know is the extent of iris varieties grown today — and that the Garden features one of the largest collections of irises in the region, with more than 25,000 plants representing 25 different types of iris. Spring and early summer in the Garden mark a perfect time and place to learn more about these plants.
With 200 different species, and hundreds more cultivars grown today in sites as diverse as high desert and low wetland, iris options might appear overwhelming. To simplify selection, gardeners should study their site and then choose the iris whose needs perfectly match the intended location.
To perform their best and produce show-quality flowers, bearded iris should have full sun, outstanding drainage, and a slow-release organic fertilizer applied after the flowers fade. Divide the fat rhizomes in midsummer every three to four years to reinvigorate flowering. Dwarf iris and the other true bulbs like the deep yellow Iris bucharica, planted in the Bulb Garden, appreciate good drainage with more moisture in spring than summer. The blue flags thrive in full sun in a rich, moist, or very wet soil. Siberian iris will adapt to less sun and less water in most gardens. Avoid high-nitrogen fertilizers that overstimulate foliage and cause flopping in midsummer.
New to the Garden are brilliant plantings of Louisiana iris (Iris Louisiana hybrids) along the lower walk of the Bulb Garden. These colorful irises bloom just after the Siberians and prefer wet springs, even moisture, and a good supply of balanced fertilizer to produce their dramatic, open flowers. In spring and summer, learn more about the fascinating faces and foliage of the irises at the Chicago Botanic Garden.