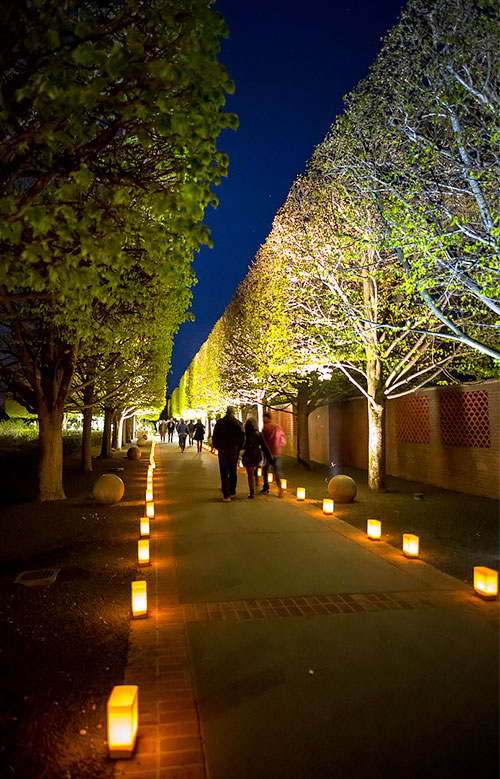 Gardens are more than plants. Stone walls, flowing water, and crunching gravel paths can turn a collection of plants into a garden room. Benches, boulders, trellises, and flagstone patios further refine a garden, creating spaces where people and plants mix comfortably. An integral feature of successful garden rooms is lighting.
Garden lighting is both a technical subject, concerned with volts, watts, conduits, and infrastructure, and an aesthetic subject, focusing on shapes, shadows, and mood. Janet Lennox Moyer, author of The Landscape Lighting Book and member of the faculty at Rensselaer Polytechnic Institute, spoke at the Chicago Botanic Garden about using light as a garden element.
Why light a garden?
Light creates a feeling in space, according to Ms. Moyer, as well as serving as a directional tool. It provides visual transportation in a garden from one area to another. Lighting can say "welcome" if the front entrance is lit or "not welcome" if the entrance is dark, even if the garden beds are lit. It can pull us into the garden, easing the isolation of winter's long hours of darkness. It can guide us toward what is most interesting in a landscape.
Guidelines for good light design
When deciding how to illuminate your yard or garden, keep the following guidelines in mind:
Use several fixtures with lower wattage, rather than one with high wattage. 


It is nearly impossible to light a tree with just one light. Gardeners tend to compensate by using too high a wattage in one fixture, creating a feeling of spotlighting or interrogating a tree. Experiment with low, 20-watt lights in most fixtures.

Lighting looks different in different seasons. 


When lights reflect off snow in winter, they appear much brighter than when they are turned on in summer. Lights on deciduous trees will naturally look different in summer, when the tree is leafed out, than in winter, when it's bare. Some trees—such as evergreens laden with snow—are more effective in winter, and some are better in summer.

Lighting can create a sense of privacy.


An unattractive background can be erased by not lighting it. If a foreground grouping of trees is lighted, an unlighted shed or chain-link fence in the background will disappear.

Downlighting almost always looks more natural than uplighting. 


Coming from above, like the sun, downlighting mimics the appearance of light and shadow in nature. Uplighting, often used for a dramatic effect, makes shadows appear backward.

Know your plants. 


Light will show through the diaphanous leaf of a Japanese maple but it will never show through a camellia or magnolia leaf. Leaf size, ornamental features, habit, branching, density, and growth rate all affect how light plays on a plant.

Light vertical surfaces more strongly than horizontal. 


Try to establish a hierarchy of brightness in a garden. A lighted tree becomes visually closer to the viewer, providing a connection to the garden from inside the house.

Lighting can accentuate textures. 


Light that washes the surface of a wooden door will highlight the texture of the wood. A fixture placed near a tree trunk to permit light to softly graze the surface brings out the texture of the bark.
Careful lighting of a garden creates a nighttime space that adds a new dimension to a landscape. It draws your eye and thoughts into the garden. Gardeners often find that once lighting has been added to their gardens, they want a little bit more…and then a little bit more.