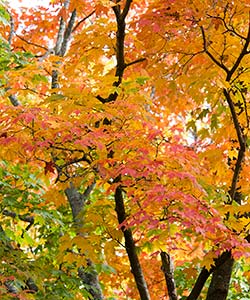 Enrich existing trees and shrubs this fall or add new plantings with tips from Garden experts. Take steps now to ensure the health and beauty of your garden come spring.
Planning and Prevention
"This summer has put our trees and shrubs under a lot of stress," according to Tom Tiddens, the Garden's plant health care supervisor and certified arborist. Despite early and late season rains, he says the mid-summer drought weakened many plants, leaving them susceptible to problems in coming seasons. "Healthy trees resist disease and insect attack, but when they are under stress they don't have that ability," says Tiddens. Fortunately, gardeners can take steps before winter to fortify their woody plants.
Cover Your Bases
Add mulch to insulate the root zone of plants and help retain moisture, advises Tiddens. Sensitive plants such as magnolias will particularly benefit from mulch. A good rule of thumb is to spread the mulch as wide as the reach of the branches. Do not pile it against the trunk, where excess water can lead to problems. He suggests using wood chips or coarsely ground fall leaves as mulch rather than summer yard waste or grass clippings. 
Go with the Flow
Tiddens recommends watering plants in order of need, to the extent that a gardener's time and resources allow. First, all evergreens should receive ample water because they need a larger supply throughout the winter than deciduous trees. The second priority is any trees or shrubs planted within the year, followed by plantings of the previous three years. Lastly, turn your efforts to established trees and shrubs. Water the soil to a depth of eight to 12 inches. If watering from overhead, Tiddens suggest placing an empty cup or can next to the plant and watering until the container holds one to one-and-a-half inches of water. Try to maintain this level of soil moisture as late into fall as possible. General or plant-specific watering questions may be directed to the Garden's Plant Information Service. 
Skirt Winter Threats
It's advisable to trim dead wood from trees and shrubs before heavy winter snow and ice fall. However, cautions Tiddens, avoid extensive fall pruning as the cuts will not have time to heal before the plants go dormant, which could result in winter damage. For more insight,
take a class
on pruning at the Garden this winter! 
Lastly, says Tiddens, if deer, rabbits, or meadow voles have worn away the bark on your woody plants in past winters, wrap the trunk now to avoid a continued issue.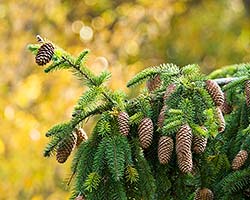 Fall Planting
Fall is a season to plant selected varieties of trees and shrubs. They offer both aesthetic and environmental value, according to Andrew Bell, Ph.D., the Garden's curator of woody plants. "They can enhance the structure of your landscape, serve as ornamental features, help absorb rainwater, and provide wildlife habitat among other benefits," he said.
It's best to plant about a month prior to a hard ground freeze, says Dr. Bell, who recommends planting deciduous trees including maples and gingkoes for their fall color in years to come. Most linden trees, which are popular for providing structure to the landscape, can be transplanted in the fall. Evergreens, including spruce, pine, arborvitae, juniper, and boxwood, provide structure and year-round color, and can also be planted in the fall.
The Garden's plant information hotline is available to answer questions about when to plant specific species. Many species are only suited to spring planting.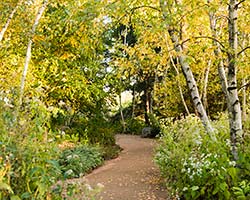 View Fall Color at the Garden
Enjoy the changing colors of the landscape at the Garden in late fall. Take a tram ride for a broad perspective of the variety of hues from red to gold. Or, get up close in the Sensory Garden for an upfront look at the magical transformation of quaking aspens and maples. Enjoy the fall color of shrubs on your next visit by strolling the Viburnum Walk near the Home Landscape Garden and the Sensory Garden.  Also, follow this
walking tour
of fall plantings!