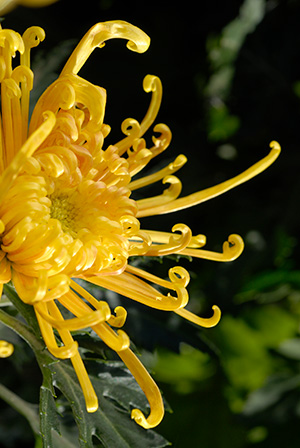 Chrysanthemum is Japanese, She's a fine lady, if you please. She comes to see us once a year, about the time Thanksgiving's here.
— Elizabeth Gordon
Throughout history, chrysanthemums have been praised for having many uses. Some species can be used medicinally, others are just for display, and some are even edible. Their economic use as a low-toxicity pesticide (pyrethrum) makes them fine natural insecticides.
In contemporary Europe, countries including France, Poland, and Spain regard certain types of chrysanthemum as a symbol of death and mourning, and it's a cultural taboo to provide them as a gift. On the contrary, in America mums make frequent appearances in landscapes, planters, and cornucopias in celebration of  the Thanksgiving season. Here at the Garden, you can see breathtaking displays featuring an array of mum cultivars in the fall.
The History of Mums
As traditionally American as they may seem, the chrysanthemum is actually a Chinese immigrant. Cultivated as an herb in China for more than 3,500 years, the chrysanthemum represents nobility and is considered one of the four gentlemen: the pure and defiant recluse that represents fall. For a long time, the flowers were only permitted to be grown by nobility, later becoming the badge for the old Chinese army. Chrysanthemum seeds passed through Korea and arrived in Japan sometime around the fourth century. In 1688, chrysanthemums crept into Europe. The reception was not warm. It wasn't until 1843 when Robert Fortune, funded by the Royal Horticultural Society, set out in search of hardy chrysanthemums from China. Within a few years, the plant experienced a popularity boom, especially in France.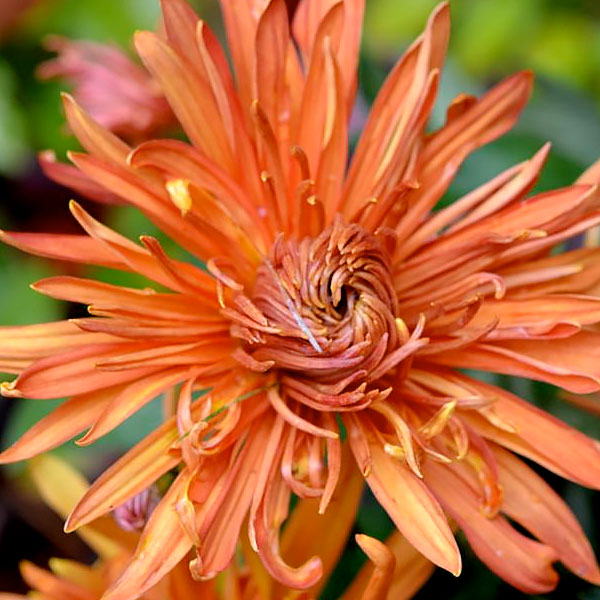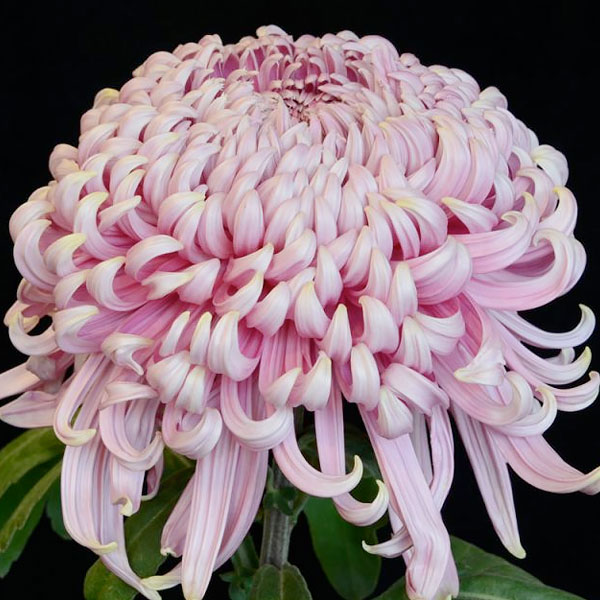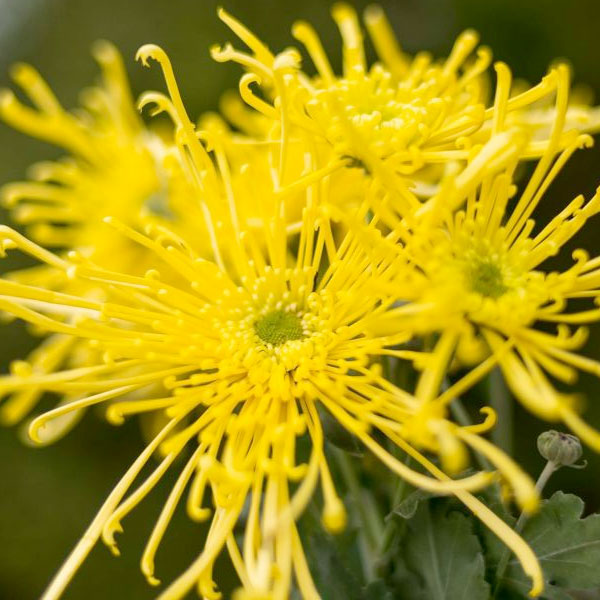 Though chrysanthemums arrived in the United States more than 100 years after their arrival in Europe, their popularity exploded at about the same time. In 1900, the Chrysanthemum Society of America formed and the first exhibition was held at the Art Institute of Chicago in November of 1902. It has since become a fall classic in America. The cultivars shown above are just three among many that you will see growing throughout the Midwest. In the past, Jefferson Park chrysanthemums were even sold as "football" mums for their popularity as corsages during football season. 
Grow Your Own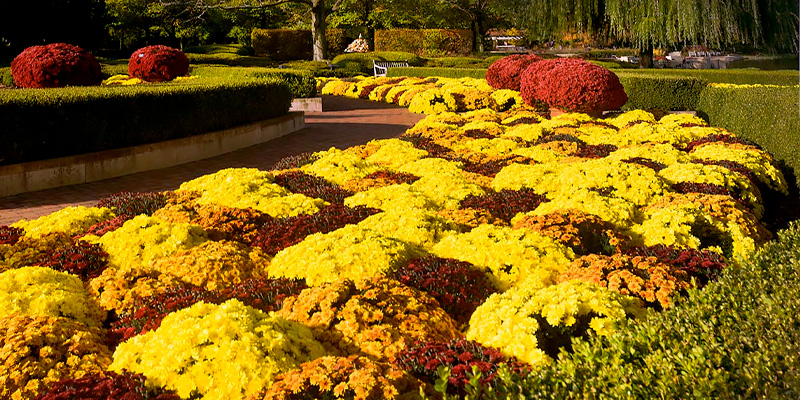 Although many garden mums are considered hardy, there are some precautions you can take to encourage their healthy return. Potted mums can be planted directly into the ground in a location that is sunny at least three hours a day. If you plant them as soon as possible, they can develop a sturdy root system before winter. However, fall-planted mums rarely survive winter because their root systems aren't well developed in time to survive the cold months. It is recommended to start with healthy, hardy mums in spring, after danger of frost has passed.
After planting, water the plants well to encourage root growth, but do not apply fertilizer until next spring. If you want bushier mums, pinch once in early June and later in mid-July. The later you pinch mums, the later they flower, so if you have a cool summer and want later mums, give an extra pinch in the beginning to middle of August. If you wish to fertilize, one to three times throughout the season will be enough for most mums. When the foliage browns later in the fall, cut the plant back to several inches, but apply mulch only after several hard freezes. At that time, mulch the plants with 6 to 8 inches of shredded material to help keep the ground temperature relatively constant, and remove the mulch early next spring as new growth appears.