The Chicago Horticultural Society
The Chicago Botanic Garden continues to strive to meet the lofty goals set more than a century ago. The Garden, with its world-renowned plant collections and displays, is one of the country's most visited public gardens and a preeminent center for learning and scientific research.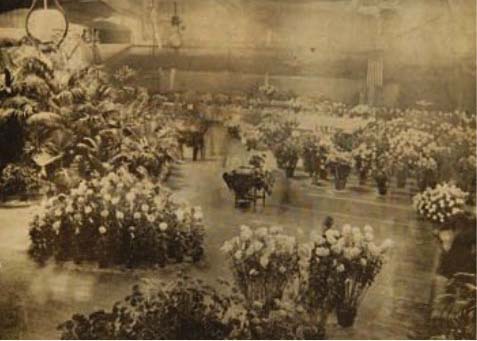 The second show hosted by the Horticultural Society of Chicago (now the Chicago Horticultural Society) was held in 1892 at the Regiment Armory.
History
The Chicago Horticultural Society was founded in 1890. At its heart was the understanding that the city of Chicago was incorporated with the Latin words Urbs in Horto, meaning "city in a garden." The Society hosted nationally recognized flower and horticultural shows from its beginning. Information on the first show the new Society hosted is lost to history, but records archived at the Chicago Botanic Garden confirm the second show was held in the autumn of 1892 at the Regiment Armory, possibly at 1542 South Michigan Avenue, where a new armory opened in 1890.
With two successful annual shows behind them, the Society next hosted the World's Columbian Exposition Chrysanthemum Show, held in conjunction with the world's fair in the autumn of 1893, at the newly built and just-opened Art Institute of Chicago.
After a period of inactivity, the Chicago Horticultural Society was restarted in 1943. In 1962, the Society's modern history begins when the Society agreed to help create and manage a new public garden. With the groundbreaking for the Garden in 1965 and its opening in 1972, the Society created a permanent site on which to carry out its mission. The mission encompasses three important components: collections, education, and research.
Relationship of the Society to the Garden
The Chicago Botanic Garden is a public-private partnership. It is owned by the Forest Preserve District of Cook County and operated by the Chicago Horticultural Society. Forest Preserve District tax support provides one-third of the Garden's annual operating budget. Membership, earned revenues, grants, and private donations provide two-thirds of the annual operating budget. Throughout the Garden's history, the overwhelming majority of capital investment has come from private donors and has been used to build new gardens and facilities. In recent years, state and federal grants have provided important funds for infrastructure projects, such as shoreline restoration and the garden wall.