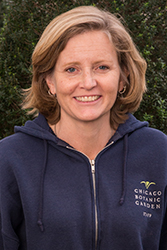 Cathy Thomas is the plant propagator for the Plant Production department. One of her responsibilities is sowing seeds for the annual displays on the Garden's grounds and for plants used in classes and camps. She is especially interested in the complex strategies that plants have developed to prevent the germination of their seeds until conditions are favorable for the seedlings' survival. In her work, she researches and tests different techniques to break these germination inhibitors present in the seeds of native plants grown for restoration and for the Garden's native habitats.
Thomas has been with the Garden since 1991, when she started as a horticulture intern. She has also worked in several different capacities in Plant Production, including as the grower for annual displays and the nursery supervisor, before becoming plant propagator in 2000.
Thomas earned her bachelor of science degree in environmental science from Northwestern University.