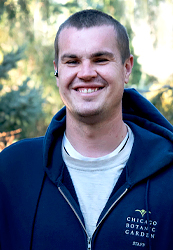 Horticulturist, Dwarf Conifer Garden and Waterfall Garden
David Murray is the horticulturist for the Dwarf Conifer Garden and Waterfall Garden. The Dwarf Conifer Garden features a collection that showcases the diversity of forms and colors found among conifers. The Waterfall Garden includes waterfalls and a stream that cascades down a steep hillside into a series of smaller, landscaped pools.
David received his bachelor's degree in environmental studies at Northeastern Illinois University. His interest the outdoors began as a broad curiosity of the natural world, where he was encouraged to spend much of his time as a child. As a teen while adventuring out west, he saw his first old-growth forest and from then on, has become enamored of the power of plants, and especially trees. David has worked at the Botanic Garden in a variety of positions since 2016, starting as an intern on Japanese Islands, working on grounds and as a seasonal assistant, and most recently as the assistant horticulturist at Lakeside Gardens. He moved to his current position in February of 2019.