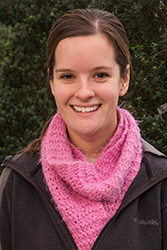 Grower, Outdoor Floriculture
Terese Adamiec is the grower for outdoor floriculture in the Plant Production department. She focuses on growing and maintaining the annuals that are used in the display gardens for the spring, summer, and fall seasons. She also maintains the inventory of nonhardy plants that are overwintered each year, orders hundreds of varieties of seeds for seasonal displays, and delivers the finished plants to horticulturists throughout the year.
Adamiec has been with the Garden since 2011, when she was hired as the grower for outdoor floriculture. She has a bachelor of science degree in horticulture from the University of Illinois at Urbana-Champaign.