Monday through Friday
9 a.m. – 4:30 p.m.
Available year-round for students and groups of all ages. (Some restrictions apply)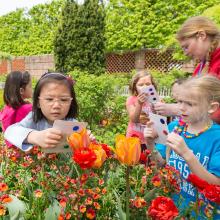 Explore the Chicago Botanic Garden at your own pace. Education staff can recommend garden areas suited for specific curricular topics prior to your field trip. Self-guided groups are also eligible for discounted tram tours and special exhibition tickets. Please call the Registrar's Office at (847) 835-6801 if you are interested in adding one of these options to your self-guided visit.
Grades PreK-12
Learning Center