April 30 – August 21, 2016
Joutras Gallery
Every tree holds a mystery inside. At the end of a tree's life, it is the job of artists, crafters, and furniture makers to reveal that story.

On display in Joutras Gallery are furniture and accessories by eight of the Midwest's most talented woodcrafters—all crafted from common regional hardwood trees.

Each artist—Mike Jarvi, Greta de Parry, Matthew Osborn, Michael Doerr, Sean "Lucky" Rice, Celia Greiner, Kelly Bresnahan, and Lou Pignolet—uses wood as their medium, and a palette of grain, rings, color, and figuring to breathe new life into the reclaimed trees of the urban forest.

You can touch heartwood and sapwood, count rings, and trace grain as you learn why the artist chose a particular wood or design for their work.

It is a deeply satisfying way to experience wood and to reconnect to the living trees around you.
The tree trunk specimens in the exhibition were milled by Horigan Urban Forest Products, a Skokie-based company specializing in the re-use of trees found within the 50-mile radius of Chicago's urban forest. Each flitch came from a diseased, insect-infested, old, storm-damaged, hazardous, or construction-flagged tree.

Horigan removes whole trees instead of mulching them, and encourages private landowners, public stewards, and commercial site managers to salvage and re-purpose the old-growth wood of our urban forests rather than destroy it.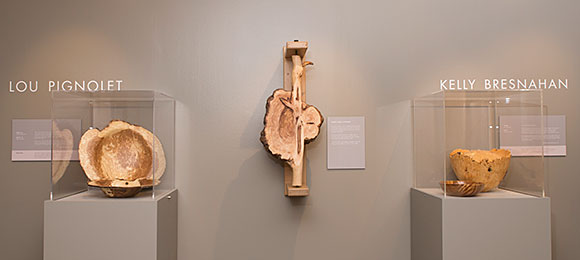 The Hidden Art of Trees is a collaboration among the Chicago Botanic Garden, Philip Davis, Mike Jarvi, and Horigan Urban Forest Products.

All furniture and accessory items are offered for sale by the artists.