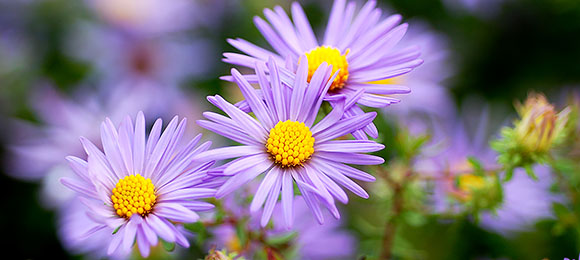 Sustainable landscaping practices are promoted through Garden initiatives to identify and develop plants best suited to Midwest gardens. Serving as an optimal outdoor laboratory, the Ellis Goodman Family Foundation Green Roof Garden South is supporting national research to better understand the response of plant communities to extreme growing conditions.
The plant breeding program aims to develop beautiful new perennials that thrive in midwestern soils and climates.
In this era of advanced technologies such as gene splicing and DNA fingerprinting, the Garden finds traditional plant breeding methods still invaluable for developing new ornamental plants. These methods include controlled hand pollination of flowers, collecting and germinating seeds, growing out thousands of plants for evaluation, and then selecting the best plants for further breeding and evaluation.
The goal of the program is to determine, through scientific evaluation, which plants are superior for gardens in the Upper Midwest. Plants are rated on ornamental qualities, cultural adaptability, winter hardiness, and disease and pest resistance. It is the intent of the program to study and recommend plants that are readily available in area nurseries. Study results are published and reported to both the professional industry and the gardening public.
The program develops and evaluates new perennial plants for introduction to the horticulture industry and gardeners.