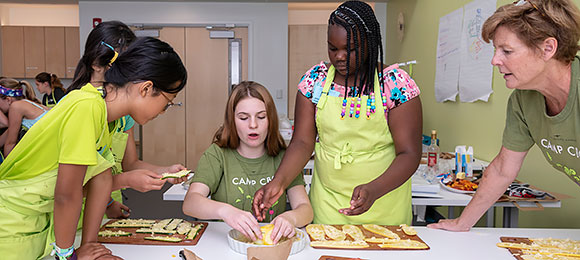 The 2016 LIT program has filled. Please check back in November for details on our 2017 program.
Ages 13 – 15
Our Leaders in Training program is the perfect summer experience for teens with an interest in science and education. Participants help prepare for camps, assist teachers during the day, and learn life skills that will benefit them in future job searches and college preparation.
The LIT program is a two-week commitment, meeting Monday through Friday from 9 a.m. to 3:15 p.m. throughout the summer. Each LIT will be scheduled in weeklong timeframes. Two consecutive weeks are preferred, but not required. Applications will be available until the program fills. LIT interviews will be conducted from February through April, and participants will receive training before camp begins.
Read excerpts from a letter from an LIT applicant:
"I would like to participate in the Leaders in Training Program. When I was little (first grade), I loved science so my mom signed me up for Camp CBG. I knew the garden pretty well since we had a membership. I remember the first activity we made at camp, a fossil with plaster of Paris with shells, ginkgo leaves, and other leaves. After that, I knew I found something I wanted to do for the rest of my life, a career in science. I don't know what field, but something gave me the best feeling, like a kid getting his favorite toy, only better. I want to do this because I love to do it; it's the best science camp ever!"