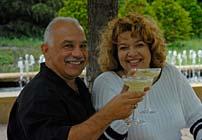 Saturday and Sunday, June 16 and 17, 2012
Noon – 6 p.m. 
Meadow west of Evening Island
Advance:  $25 members/$30 nonmembers
Day-of:  $30 members/$35 nonmembers
Parking is per car; free for Garden members
By purchasing tickets for this event, you agree to terms and conditions stated below.
* Must be 21 or older to purchase ticket; valid ID card must be shown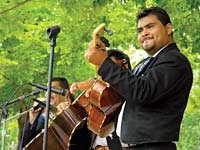 Taste of Mexico highlights the cuisine and beverages of Mexico. Guests will enjoy tastings of tequila, specialty cocktails, Mexican beers, and savor and learn about the best of Mexico's food and beverage traditions. Local restaurants will sell dishes originating from Oaxaca, Jalisco, Veracruz, and Guanajuato in Mexico. The event also will feature live music and demonstrations.
Tequila, Mexico's national drink, is an alcoholic spirit made in central Mexico from the distilled sap of Agave tequilana 'Weber's Blue', or blue agave. Tequila owes its existence to the evolution of mezcal, a drink that originated when the conquistadors were in search of a stronger beverage than pulque — the fermented sap of the maguey, or agave, plant — so they began distilling it. The most pronounced difference between mezcal and tequila is that mezcal offers a bold, smoky flavor, a result of roasting the agave before distillation. With tequila, the plant is steamed before distillation, allowing the agave itself to be the prominent flavor. All three drinks — pulque, mezcal, and tequila — are made from different species of agave. Today tequila can only be produced in the Mexican state of Jalisco and specified regions in the states of Tamaulipas, Guanajuato, Nayarit, and Michoacan.
Participants:
Beverages
Corona
Don Julio Tequila 
Jose Cuervo Tequila
Modelo
Pacifico
Victoria
Restaurants
Destinations
Copper Canyon
Cozumel
Ixtapa
Jalisco
Mexico City
Oaxaca
Vendors
Universidad Nacional Autonoma de Mexico–USA
Nuestro Queso
Highland Park Illinois Sister Cities Foundation
Stage Schedule
Saturday, June 16
1 p.m.
Ballet Folklorico Nacional de Victor Soria
2:15 p.m.
Alebrije (Mexican folk-art)
3 p.m.
Mezcal presentation with Mixologist
3:45 p.m.
History of Mexican Cuisine and Tasting with Chef Carlos of Mexique
4:30 p.m.
Mariachi band
Sunday, June 17
12 p.m.
Ballet Folklorico Nacional de Victor Soria
1:15 p.m.
Oaxaca Touristic presentation
1:45 p.m.
Textiles of Oaxaca
2:30 p.m.
History and Origins of Tequila and Tasting
3:20 p.m.
Cooking demonstration with Chef Dudley of San Gabriel Mexican Café
4:15 p.m.
La Guelaguetza dancers
5 p.m.
Mariachi band
Tickets to this event are nonrefundable. Due to the popularity of this event, we encourage you to buy tickets in advance. A confirmation will arrive via e-mail once your order is received. Tickets are on a first-come, first-served basis. Space is limited. Advance tickets may also be purchased at the Chicago Botanic Garden Information Desk in the Visitor Center.  For questions, please call (847) 835-5440.
Must be 21 years of age or older with valid identification to purchase event tasting ticket. By purchasing a ticket for the Taste of Mexico, you assume all risk of violating the state law if you operate a motor vehicle while under the influence of an intoxicant, and further waive and forever release and indemnify the Chicago Botanic Garden, Cook County Forest Preserve, Cook County, Sodexo, and all participating distilleries and vendors and their respective members, shareholders, officers and directors, employees, volunteers and agents from any and all liability arising from the use of alcoholic beverages or acts of nature. As a ticket holder for Taste of Mexico, you assume all risks and dangers of personal injury and all other hazards arising from or related to Taste of Mexico whether occurring prior to, during or after said event. For security purposes, you hereby consent to the reasonable inspection of your person and property before entering the event. Chicago Botanic Garden, Sodexo, and event distilleries and vendors have the authority to refuse service to intoxicated persons. The event is held rain or shine. No pets, outside food or beverages. All sales are final; no cash value.