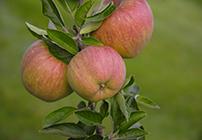 Sunday, February 22, 2015
Forgotten Tastes: Our Apple Heritage
2 – 3 p.m.
Dan Bussey, orchard manager of Seed Savers Exchange
Alsdorf Auditorium
The lecture is free, but seating is limited (regular Garden parking fees apply).
Lewis Incomparable. Summer Gold. Worchester Pearmain. Few people know that our garden heritage contains a rich diversity of thousands of apple varieties. In 1990, the Historic Orchard was established at Seed Savers Exchange in Decorah, Iowa, to preserve hundreds of pre-1900 apple varieties. Orchard manager Dan Bussey is an apple historian and orchard keeper. Follow Dan's childhood experiences in cider-making that led to a lifelong curiosity with historic apple varieties. Trace the movement of apples out of Kazakhstan into Europe and eventually North America, discover the merits of Johnny Appleseed, and learn how to preserve heritage apple varieties by growing them at home. Mr. Bussey will share excerpts from his upcoming publication, The Apple in North America, which describes 20,000 named apple varieties.