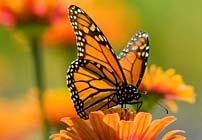 Saturday, June 22 - CANCELED
10 – 11:30 a.m.
Ages 4 – 10 with adult
$30 per nonmember child
Garden Plus members receive 20 percent off
Learning Center
Join forces with award-winning children's author and educator, Patricia J. Murphy, for a hands-on reading, writing, art, and science exploration of the superheroes of nature — bugs! Help spread the word why bugs are super and how we can save them and their habitats! You'll design a poster, take home a plant, and go on a tour of our exhibition, Butterflies & Blooms!