Summer days are made for grabbing a barista-made iced coffee drink or a char-grilled jumbo hot dog at the Garden. We'd love to see you do so at any of our seasonal dining options:
---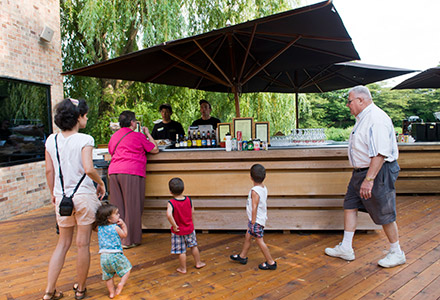 Services: Breakfast, lunch, and dinner
Hours: Breakfast, 8 to 10 a.m. daily; Grille, 11 a.m. to 3 p.m. Monday through Friday; 11 a.m. to 6 p.m. Saturday and Sunday.
---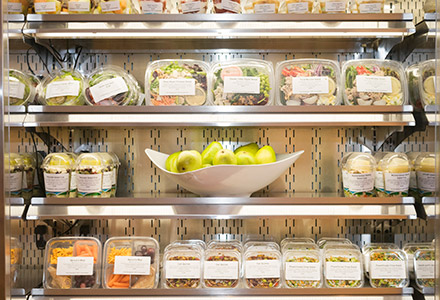 Services: Lunch, dinner, dessert, cocktails, and other drinks
Hours: 11 a.m. to 2 p.m. Monday through Friday; 11 a.m. to 6 p.m. Saturday and Sunday
---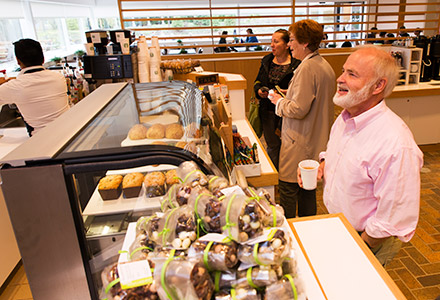 Garden View Café
Services: Barista station only
Hours: 8 a.m. to 6 p.m. Monday through Friday; 8 a.m. to 8 p.m. Saturday and Sunday
---
Please Note: The Esplanade lawn is available for picnicking for grab-and-go purchases only; outside food is not allowed. The Garden's picnic tables in parking lot 2 will be available. With a limited on-site staff, trash receptacles at the picnic tables will not be emptied; please be prepared to carry out your own trash.
Health and Safety Precautions
With your safety in mind, we're doing things a little differently at all of the dining locations in the Garden in response to the COVID-19 health crisis:
Food service employees will wear face coverings and gloves.
Visitors are asked to wear face coverings unless they are eating and drinking at their table at the Garden View Café or Garden Grille.
You will be asked to come back later if there is a wait for tables.
We'll have outdoor dining only, and visitors will be seated 6 feet apart from others. Both Garden View Café decks in the Visitor Center will be available for seating, along with the picnic area in parking lot 2.
We'll use disposable, compostable food and drink containers for you to pick up on your own.
High-contact areas—including tables, chairs, and credit card terminals—will be cleaned frequently.
We'll have plexiglass shields at payment registers.
Credit cards only; no cash will be accepted.
Water stations and drinking fountains will not be available. Canned water will be available for sale. You will be able to fill your water bottle at a touch-less refill station in the Visitor Center.
Wheelchairs will be allowed, but no scooters.
Other dining updates:
The Rose Terrace Beer Garden will open later this summer, subject to change.
TrueJuice at the Regenstein Fruit & Vegetable Garden will not reopen this year.