Yesterday we moved our first titan arum (Amorphophallus titanum), "Spike," to the Semitropical Greenhouse. Now we are all watching and waiting for Spike to bloom—a dream of the Chicago Botanic Garden for 12 years! Finally, in the next ten days or so, we'll see the fruit of our labor in all of its stinky glory.
What's next, and when?
Over the next several days, Spike will grow taller—some days, a barely noticeable inch, and other days, a remarkable 4 or 5 inches. Below the soil is a giant corm, which is a type of underground tuber or bulb (some can weight up to 200 pounds). The titan arum bloom has previously gone through three to ten annual cycles of emerging as a leafy stalk, dying back, and sending that energy back into the corm, which began as a germinated seed about the size of a quarter. 
Big bloom!
While it will look like Spike is a 6- to 8-foot-tall flower, what you will see is actually a tall spadix (flower structure) wrapped by a spathe (a frilly modified leaf). Over the next week, the spadix will emerge out of the top of the bud and continue to grow taller, until it's time for the bloom. For a single day, the spathe will unwrap and open to a dark, velvety red "bloom," closing again roughly 24 hours later. 
Big stench. No, really.
Inside the tightly wrapped spathe, the plant uses stored energy from the corm to heat up internally to 90+ degrees Fahrenheit. As the spathe opens, the 750 small female flowers ringing the bottom of the spadix release scent molecules that are volatilized (vaporized) by the heat, creating a blast of scent so powerful that it can travel an acre (or the distance between individual plants in their native Sumatran rain forests). The scent is a calling card for pollinators.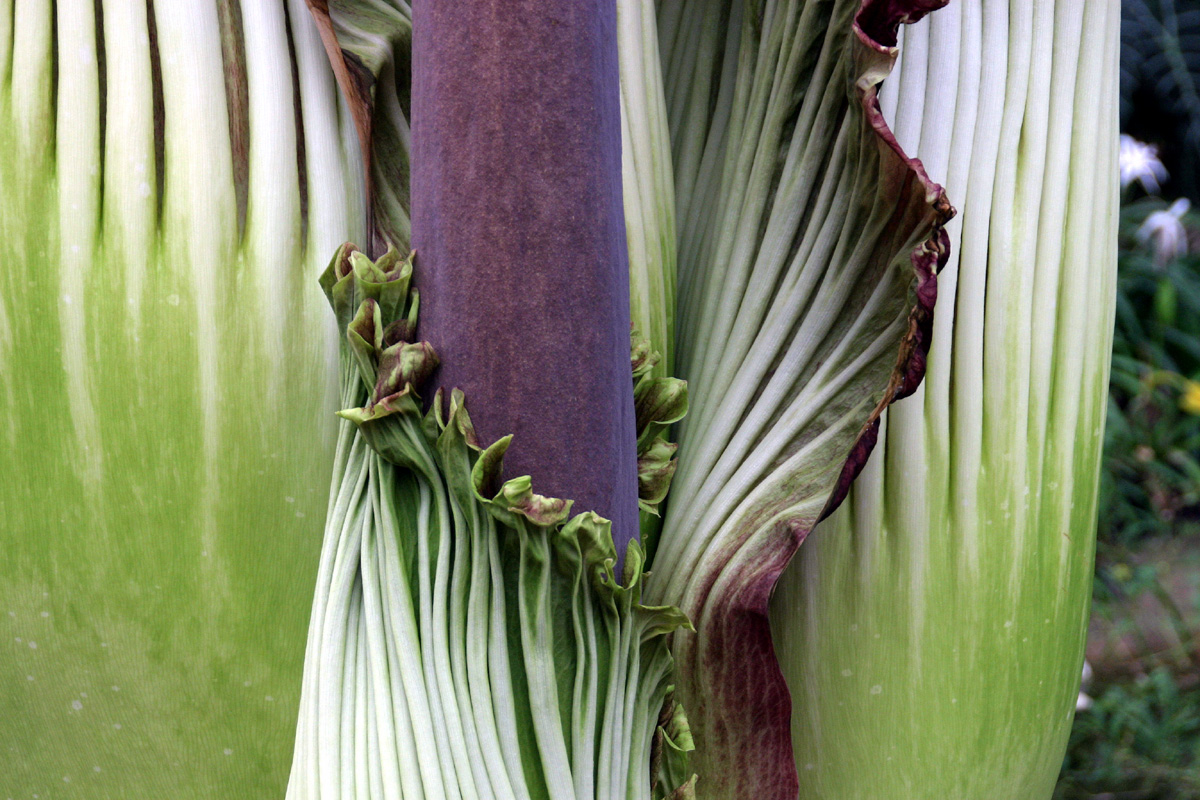 What does Spike smell like? Chemically, the scent is a combination of dimethyl trisulfide, isovaleric acid, dimethyl disulfide, and trimethylamine—or, as our friends at Huntington Botanic Gardens described it, "a combination of limburger cheese, garlic, rotting fish, and smelly feet."
The titan arum will be worth the wait! (Follow our #CBGSpike)
This is yet another "Wow!" produced by our production greenhouse staff for our visitors to rave about. 
Other Chicago Botanic Garden "Wows":
More than 180,000 colorful and bountiful annuals and vegetables produced for displays throughout the Garden
The stunning and dramatic cascading chrysanthemums seen atop the bridge at the Visitor Center each fall, and the nearly 100 or so chrysanthemum "balls" we create every year for display in the Esplanade
The 10-foot-tall floral pyramids and blooming obelisks created to enhance seasonal displays
But Spike is the most distinguished of them all.