Conservation Corps Teens Dig Into Summer
You might have noticed a group of hard-working high-schoolers wearing hard hats and toting shovels at the Chicago Botanic Garden this summer. The aspiring conservationists—part of the Conservation Corps—are doing important restoration work throughout the Forest Preserves of Cook County, including a stint at the Garden.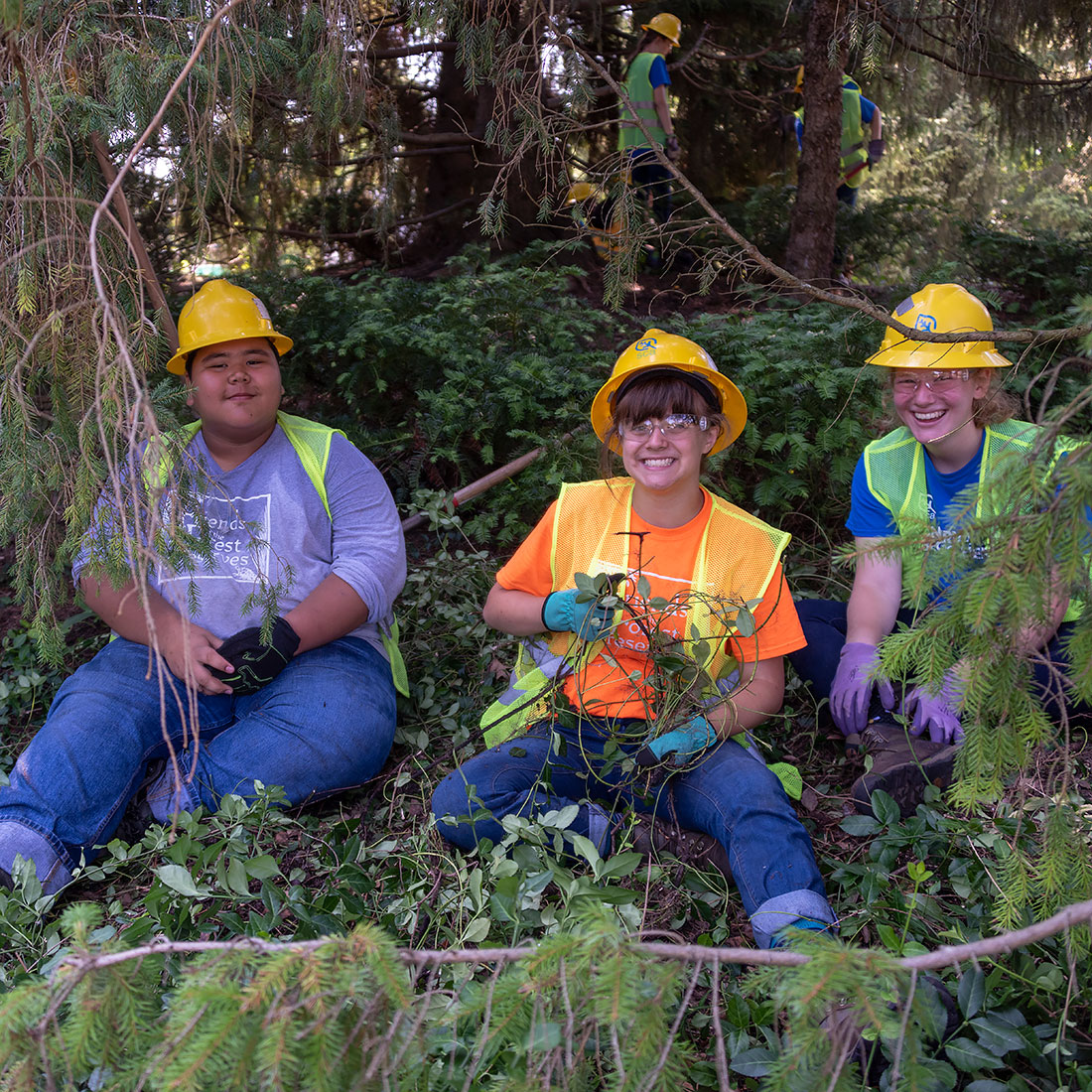 The Conservation Corps is a paid summer internship that gives young people hands-on conservation and environmental science experience. Students partnered with Garden horticulturists and learned to identify plants and remove invasive species. This year, they worked to clear and trim overgrown bushes, install new plantings, and remove invasive plants. In addition to their work at the Garden, Corps members worked at Harms Woods near Glenview and took field trips such as an environmental science career day at the Field Museum.
We asked a few teens about their experience and what they learned while working at the Garden. Here's what they had to say:
"It's a great building block to what I want to do. I've already learned so much about identifying plants, trail mulching, steps you can take to improve the environment, and different environmental careers. I'm looking forward to what's ahead." —Gabby Onnenga, 17, Skokie
"It's allowed me to connect with a lot of people I wouldn't have before. Last Friday we went to the Field Museum and talked to a lot of interesting people there. I talked with one of the leaders here at the Garden who recommended me to someone who runs a fungus organization. It could connect us to other opportunities." —Aaron Ivsin, 16, Chicago
"I want to be an environmental biologist. This will help me later in life because everybody knows each other in the field." —Ushus Hermanson, 17, Chicago
The program is part of the effort by the Garden and its partner, Friends of the Forest Preserves, to build the next generation of conservation leaders. "It has been great to have another Forest Preserves Conservation Corps crew this summer," said Beth Dunn, the Garden's director of government affairs, who helped coordinate the program. "Not only is it a great help for the Garden's staff to tackle needed projects, it is a great learning experience for the crew members who may be for the first time working as part of a land management team."
For many, it was just the place they wanted to be. "Right from the beginning, I knew I made the right choice," said Sile Surman, 16, of Wilmette. "I'm very passionate about the environment, and it's a great experience to be surrounded by people who are also passionate."