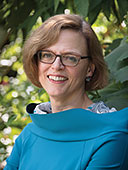 President and CEO
On a warm, cloudy morning last August, the parking lots filled up early at the Chicago Botanic Garden. Thousands of people streamed through the main gates on bicycle or on foot. Some pushed strollers or wheelchairs while others lugged sun umbrellas, lawn chairs, and beach towels.

They filled every corner of the Garden to participate in an event that highlighted our ability to bring people together to celebrate science and horticulture. What drew those crowds was an extraordinary double event—a partial solar eclipse and a huge corpse flower in full, pungent bloom. That double feature underscored the importance of what you help us do every day at the Garden: connect people to the natural world.

Along with our steadfast partner, the Forest Preserves of Cook County, your support allows the Garden to fulfill the promise of our mission: We cultivate the power of plants to sustain and enrich life. As climate change takes hold and green space shrinks, our work is more vital than ever.

An increasing number of people are turning to the Garden for mental and physical well-being. In 2017, the Garden set an attendance record, with 1.1 million visitors. Our scientists and horticulturists work around the city, county, and world to ensure that beautiful gardens and natural spaces like ours continue to thrive for today's visitors and future generations. And through Windy City Harvest our urban farmers help build healthier communities by growing more than 130,000 pounds of vegetables and fruit each year on 13 local farms.

We are so grateful for your energy, heart, and counsel at this critical juncture in the Garden's history, as we approach our 50th anniversary in 2022. In 2017, we began the vital work of creating our next strategic plan, which lays out our vision for the future. That includes our commitment to plant-based learning experiences that change how people perceive and care for the environment. Staff members at every level throughout the Garden have been participating in round-table conversations and on dedicated teams to more deeply understand our Garden and the competitive landscape. These conversations are natural extensions of the ones we have daily on how to evolve, innovate, and lead in changing times. The coming year will bring new challenges, as the Garden prepares for reductions in government funding, but we believe the new framework for decision-making will yield a stronger, more focused organization.

Thank you for believing with us that people live better, healthier lives when they can create, care for, and enjoy gardens and green space. Your commitment to this belief helps people like Steve Joseph, who worked at the Garden last summer as part of the Veteran Internship Program, funded by grants from the Institute of Museum and Library Services and the Robert R. McCormick Foundation. In a story that aired on the national television program CBS This Morning, the Navy veteran noted that he saw dozens of friends die in deployments overseas.

"I relive those incidents in my head every day," he said. "So the Garden puts that at peace when I walk through the front door. It takes away the darkness and brings some lightness."

Your generosity and engagement are making a difference in people's lives.
2017