Jean M. Franczyk, President & CEO, and Robert F. Finke, Chairman of the Board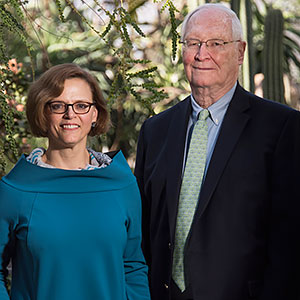 Every day, we focus on this pressing question—how do we preserve and protect this amazing, fragile planet? The urgency is not lost on us. Our scientists work every day at the Chicago Botanic Garden, where bald eagles soar over our prairie and native wildflowers bloom in our woods, and around the world to understand how the changing climate affects plants and pollinators.
In 2018, with your help, we connected people to the beauty, healing power, and importance of the natural world. We celebrated two landmark openings that underscored our commitment to horticulture, urban agriculture, and the power of plants: the Robert F. Finke Greenhouses on the Kris Jarantoski Campus and the Farm on Ogden in the Lawndale neighborhood of Chicago. And we introduced new events, new plant science research, and new initiatives, including the relaunch of the global citizen scientist project Budburst.

At the same time, we had intense weather challenges, which meant a few less visitors and lower-than-expected earned revenues. But the Garden staff stepped up, and we enjoyed more than one million visitors—for the sixth year in a row. We also responded with a tight, balanced budget, consolidated operations, and innovative ideas to generate revenue.

None of this would have been possible without your support and encouragement and that of our longtime partner, the Forest Preserves of Cook County. We are deeply thankful for your commitment to every aspect of our great Garden of today and even greater Garden of tomorrow. A new five-year strategic plan, approved in 2018, articulates our future direction and identifies our goals. Together, we shall work to meet the challenge of sharing our Garden and its work with even more people throughout Cook County and beyond.