October 19 – December 18, 2020 (no programs Nov. 3, 11, 22 – 26)  
Monday – Friday
Online meeting call arranged after registration, 9 a.m. – 2:30 p.m.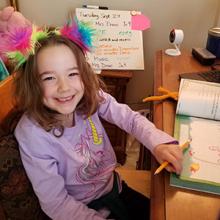 Virtual field trips deliver Garden learning to your classroom through an online meeting platform of your choice. Each program includes a short video, a kit of materials, and a one-hour online lesson with a Garden educator that engages students in an investigation of NGSS-related natural phenomena found at the Garden. Financial aid is available to cover fees for schools serving low-income populations.
Field Trip workshops must be booked a minimum of three weeks in advance, and full payment is due at time of registration. Please call our field trip registrar if you have any registration questions: (847) 835-6801

Grades K-12
Online
Sneaky Plants (Grades K-1)
How and why do plants change the spaces they live in? We will show you places in the Garden where plants have affected their environment and challenge you to figure out why.  
NGSS: K-ESS2-2, 1-LS1-1, 2-LS2-1

Flower Lab (Grades 2-4)
What is the reason for a flower, and how does it do its job? View a gorgeous video of blooming plants at the Garden, and then become a scientist in your classroom, doing a guided flower dissection on a real flower to understand what the different parts do.
NGSS: 2-LS2-2; 3-LS1-1; 4-LS1-1

 Carnivorous Plants (Grades 4-6)
What's going on with these plants that eat bugs?! We grow carnivorous plants at the Garden: sundews, pitcher plants, and Venus fly traps. We will introduce you to them and guide you through an experiment understand what plants need to live and grow, and why these plants trap insects.
NGSS:  4-LS1-1; 5-LS2-1; MS-LS1-4
October 19 – December 18, 2020 (no programs Nov. 3, 11, 22 – 26)