A collaboration between the Chicago Botanic Garden and Northwestern University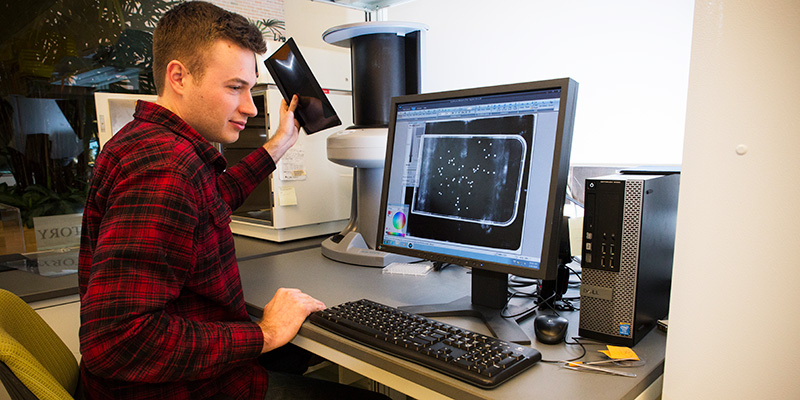 The Chicago Botanic Garden and Northwestern University combine their strengths to offer a unique graduate program emphasizing environmental plant biology and conservation. Addressing a growing need for expertise in plant science and conservation, the master's of science and doctoral degree programs provide students with advanced training in plant and soil ecology, evolution of plants and fungi, and applied conservation theory and methods. Students take courses at both the Chicago Botanic Garden and Northwestern University and interact with outstanding researchers and faculty from both institutions.
The Garden's Daniel F. and Ada L. Rice Plant Conservation Science Center is an international center of plant conservation research and serves as home to the graduate program. The Plant Science Center provides a world-class facility designed specifically to meet the needs of students and researchers.
Students in the M.S. program receive a strong foundation in plant ecology, evolution, and conservation. The M.S. program offers two tracks—a research thesis track and an internship track.
The M.S. internship degree focuses on preparing students to work in the field of conservation through coursework and an internship. Students take courses during the academic year and complete an internship. The degree can be completed in one year. Students conduct an internship in the organization of their choice. Internship hosts benefit from the energy and skills of well trained and highly motivated graduate students who can assist with existing projects or help develop new ones. Students benefit from exploring career options, building connections, gaining new perspectives, putting their skills to practical use, building skills and experiences, and networking with potential future employers. Internships include a minimum of 240 hours of work.
In the M.S. research thesis track, students receive a strong foundation in plant ecology, evolution, and conservation. They can choose to specialize in a variety of areas. Students typically take two to two and a half years to complete the degree, with coursework completed in year one and research emphasized in year two. Scholarships are available for full-time students; students wishing to be considered for them should indicate this on their application. Students wishing to attend part-time are also welcome.
The Ph.D. program aims to foster an academic and research environment that allows students to gain experience, skills, and knowledge to become scholars, leaders, or practitioners in plant biology and conservation. Graduates of the program will have a strong theoretical and methodological foundation within the field. In addition, they will develop the in-depth knowledge required to be able to identify and articulate the frontiers of scholarship and applied science within their area of specialization. The curriculum emphasizes a complex systems approach while integrating multiple disciplines. In line with the complex nature of global environmental issues, the program offers a breadth of approaches to basic and applied research in addition to local, national, and global issues.
Visit plantbiology.northwestern.edu for more information about the doctoral program or to apply.