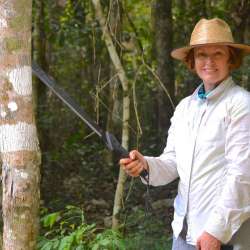 Conservation Scientist, Soil and Microbial Ecology
Teaching and Research Affiliations:
Fulbright Postdoctoral Fellow, Australian-American Fulbright Foundation, 1994–97
Adjunct Professor, Biological Sciences, Northwestern University, 2003 – present  
Selected Professional Associations:
2016 – present Member, American Geophysical Union
2010 – present Member, Society for Ecological Restoration
2003 – present Member, Soil Science Society of America
2000 – present Member, Mycological Society of America
1996 – present Member, Ecological Society of America
Research Interests:
Mycorrhizal fungal diversity, functioning, and ecology
Consequences of alterations in climate, land-use, and species invasion cycles on plant-soil interactions
Fungal macromolecules and soil carbon sequestration 
Soil health and ecosystem resilience
Biogeochemistry of green roof ecosystems
The Soil Ecology Lab at the Chicago Botanic Garden is focused on furthering our understanding of the mycorrhizal symbiosis and its significance within terrestrial ecosystem structure and function.
Although mostly hidden from us, mycorrhizal fungi are ubiquitous symbiotic partners with the roots of most plants. These symbioses are critical to nutrient and water uptake by plants, and responsible for key ecosystem functions such as soil aggregation and carbon sequestration.  As a result, any alterations in these symbioses can feed back to influence plant community structure and ecosystem function. Research in the lab revolves around three themes:
Documenting the diversity of mycorrhizal fungal communities;
Developing a mechanistic understanding of how these symbioses affect plant community and ecosystem processes; and,
Examining the consequences of alterations in climate, land-use, and species invasions on this relationship. To address these themes, we use lab and field experiments and a variety of analytical approaches including stable isotopes, high throughput sequencing, and fluorescent metabolic tracers.
Current research projects:
Arbuscular mycorrhizal community responses to shifting soil moisture regimesand soil fertility in a dry tropical forests. We have installed rainout shelters to examine the extent to which mycorrhizal fungal diversity and function may be influenced by shifts in rainfall, and their resilience to changes in the global environment. We have also initiated a nitrogen (N) fertilization project to examine the effects of increasing N inputs into tropical forests. Location: Yucatán Peninsula, Mexico.
Ectomycorrhizal (ECM) fungal diversity in arbuscular-mycorrhizal (AM) dominated forests. Increasingly, ECM fungi have been found in traditionally AM forest systems. This study has been documenting the diversity and function of putative ECM fungi in an AM-dominated dry tropical forest. Location: Yucatán Peninsula, Mexico.
Biogeochemical cycling in green roof ecosystems. Green roofs are well known for their physical properties, e.g., reducing run-off.  The capacity of their soil systems for nutrient cycling, however, is not.  Current studies are exploring the extent to which microbial C and N cycling occurs in green roof systems. Location: Chicago, US
Soil health and the resilience of restored ecosystems. Metrics of soil health (or quality) have been frequently used to describe and monitor soil systems in agricultural fields. We are currently using a variety of soil properties to calculate soil health indices, and determine how well these indices described the status and resilience in restored grasslands. Location: Chicago, US.
Selected Publications:
Diversity
Desai, N., Wilson, A.W., Powers, J.M., Mueller, G.M., and Egerton-Warburton, L.M. (2016). Mycorrhizal community structure in Quercus oleoides in a restored seasonally dry tropical forest. Environmental Research Letters 11: 125007. (Special Issue on Conservation of Dry Seasonal Tropical Forests).
Allen, M.F., Swenson, W., Querejeta, J.I., Egerton-Warburton, L.M., & Treseder, K.K. (2003). Ecology of mycorrhizae: a conceptual framework for complex interactions among plants and fungi. Annual Review of Phytopathology 41: 271-303.
Functioning
Schreiner, K.M., Blair, N.E., Levinson, W., and Egerton-Warburton, L.M. (2014). Contribution of fungal macromolecules to soil carbon sequestration. In: Progress in Soil Science 2014: Soil Carbon(Eds. A. Hartemink and K. McSweeney): pp. 155-161 Springer, Berlin.
Querejeta, J.I.,Egerton-Waburton, M., Prieto, I., Vargas, R., and Allen, M.F. (2012). Changes in soil hyphal abundance and viability can alter the patterns of hydraulic redistribution by plant roots. Plant and Soil 355: 63-73.
Querejeta,Egerton-Warburton, L.M., and Allen, M.F. (2009).  Differential access to groundwater modulates the mycorrhizal responsiveness of oaks to inter-annual rainfall variability in a California woodland.  Ecology 90: 649-662.
Egerton-Warburton, L.M., Querejeta, J.I., and Allen, M.F. (2008). Efflux of hydraulically-lifted water by mycorrhizal hyphae during imposed drought. Plant Signaling and Behavior 3: 68-71. 
Responses to Anthropogenic Change
DeLong, J.R., Swarts, N., Dixon, K.W., and Egerton-Warburton, L.M. (2013). Mycorrhizal preference promotes habitat invasion by a native Australian orchid: Microtis media.  Annals of Botany 111: 409-418.
Egerton-Warburton, L.M., Johnson, N.C., and Allen, E.B.(2007). Mycorrhizal community dynamics following nitrogen fertilization: a cross-site test in five grasslands. Ecological Monographs 77: 527-544.
Querejeta, J.I.,Egerton-Warburton, L.M., and Allen, M.F. (2003).  Direct nocturnal water transfer from oaks to their mycorrhizal symbionts during severe soil drying. Oecologia 134: 55-64.
Egerton-Warburton,M., Graham, R.C., Allen, E.B, and Allen, M.F. (2001). Reconstruction of the historical changes in mycorrhizal fungal communities under anthropogenic nitrogen deposition. Proceedings of the Royal Society of London, Series B 268: 2479-2484.
Egerton-Warburton, L.M., and Allen, E.B. (2000).  Shifts in the diversity of arbuscular mycorrhizal fungi along an anthropogenic nitrogen deposition gradient. Ecological Applications10: 484- 496.
Restoration
Yost, L.*, Egerton-Warburton, L.M., Schreiner, K.M., Palmer, C.E., and Hartemink, A.E. (2016). Impact of restoration and management on aggregation and organic carbon accumulation in urban grasslands. Soil Science Society of America Journal 80: 992-1002.. *Undergraduate student author
Egerton-Warburton, L.M.  (2015). Inoculation of Eucalyptus with ectomycorrhizal Pisolithus enhances plant growth and mineral nutrition in acidic coal spoil.  Applied and Environmental Soil Science vol. 2015, doi:10.1155/2015/803821.
Allen, E.B., Allen, M.F., Egerton-Warburton, L.M., Corkidi, L., & Gomez-Pompa, A. (2003). Impacts of early- and late-seral mycorrhizae during restoration in seasonal tropical forest, Mexico. Ecological Applications 13: 1701-1717.
Graduate Students:
Lauren Umek, Ph.D. candidate, Northwestern University (Advisor)
Benjamin Morgan, Ph.D. candidate, Northwestern University (Advisor)
Kaiyue Zhou, MS student, Northwestern University (Advisor)
Chen Ning, Ph.D. candidate, Northwestern University (Committee)
Lynnaun Johnson, Ph.D. candidate, Northwestern University (Committee)
Postdocs:
Kathryn Schreiner, Northwestern University (now at UM Duluth)
Websites:
International Culture Collection of (Vesicular) Arbuscular Mycorrhizal Fungi (INVAM) and La Banque Européenne des Glomales (BEG)
INVAM and BEG are curated, living culture collections, where the primary goal is to acquire, propagate, characterize, and maintain germplasm of AMF in living cultures for preservation and distribution to any person or institution.  Both sites contain germplasm information and accessions, basic tools in fungal biology, taxonomy, and ecology of AMF.
DEEMY DEEMY is an information system for the morphological characterization of ectomycorrhizal fungi.
UNITE UNITE is molecular database for the identification of fungi, primarily fungal rDNA ITS sequences, and designed to facilitate identification of environmental samples of fungal DNA.
Page Last updated: July, 2017