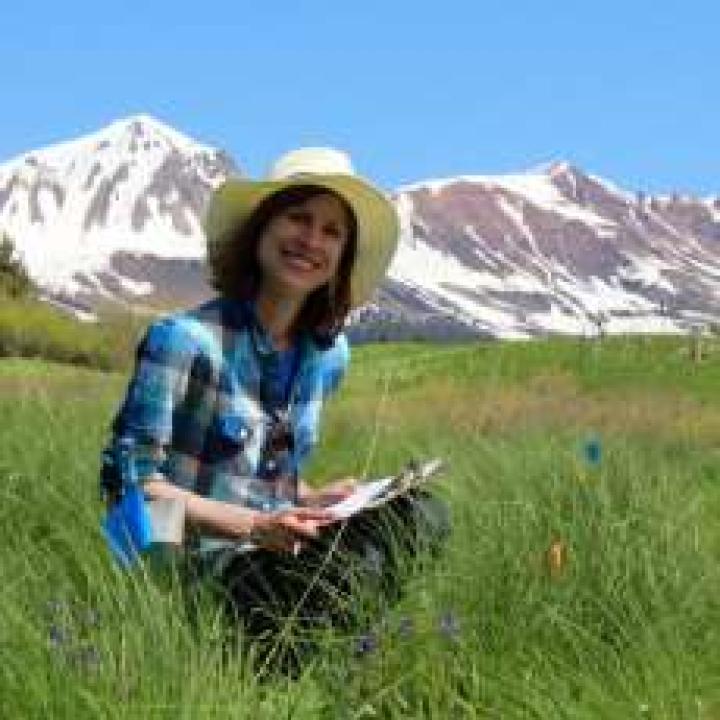 Conservation Scientist, Population and Community Ecology
Teaching and Research Affiliations:
Adjunct Assistant Professor, Plant Biology and Conservation, Northwestern University
Graduate School Faculty, Plant Biology and Conservation, Northwestern University
Principle Investigator, The Rocky Mountain Biological Laboratory, Gothic, CO
Research Interests:
Population & community ecology
Phenology
Climate change
Invasive plants
Pollination ecology
Statement:
My research addresses questions about how anthropogenic change reshapes ecological processes. I am interested in how species interactions, population dynamics, and the timing of biological events respond to various types of environmental changes. My work so far has investigated the consequences of climate change and species invasions for plant-pollinator mutualisms, plant populations, and plant communities.              
 
Using long-term data sets, observational & experimental field studies, and population modeling, my research currently explores three key questions:
Why is there so much variation in how species adjust their biological timing to a changing climate?
What are the demographic consequences of changing environmental conditions (e.g., climate change and pollinator losses)?
How do species invasions and climate change affect plant-pollinator mutualisms?
Selected Publications:
Compagnoni A, AJ Bibian, BM Ochocki, HS Rogers,E Schultz, ME Sneck, BD Elderd, AM Iler, DW Inouye, H Jacquemyn and TEX Miller. (in press) The effect of demographic correlations on the stochastic population dynamics of perennial plants. Ecological Monographs DOI: 10.1002/ecm.1228
Li XE, LL Jiang, FD Meng, SP Wang, HS Niu, AM Iler et al. (2016) Responses of sequential and hierarchical phenological events to warming and cooling in alpine meadows.Nature Communications 7: 12489
Petry WK, JD Soule, AM Iler, A Chicas-Mosier, DW Inouye, TEX Miller, and KA Mooney. (2016) Sex-specific responses to climate change in plants alter population sex ratio and performance. Science 353: 69–71
Iler AM and K Goodell. (2014) Relative floral density of an invasive plant affects pollinator foraging behavior on a native plant. Journal of Pollination Ecology 13: 174-183.
CaraDonna PJ*, AM Iler*, and DW Inouye (2014) Shifts in flowering phenology reshape a subalpine plant community. Proceedings of the National Academy of Sciences, USA 111:4916–4921  *Authors contributed equally, listed alphabetically
Iler AM, DW Inouye, TT Høye, AJ Miller-Rushing, LA Burkle, and E Johnston. (2013) Maintenance of temporal synchrony between syrphid flies and their floral resources despite differential phenological responses to climate.  Global Change Biology 19: 2348–2359
Iler AM, TT Høye, DW Inouye, and NM Schmidt. (2013) Nonlinear phenological responses to climate: are species approaching their limits of phenological change? Philosophical Transactions of the Royal Society B 368: 20120489
Iler AM, TT Høye, DW Inouye, and NM Schmidt. (2013) Long-term trends mask variation in the direction and magnitude of short-term phenological shifts. American Journal of Botany 100: 1398–1406 
Iler AM and DW Inouye. (2013) Effects of climate change on mast-flowering cues in a clonal montane herb, Veratrum tenuipetalum (Melanthiaceae).  American Journal of Botany 100: 519­–525
McKinney (Iler) AM, PJ CaraDonna, DW Inouye, B Barr, CD Bertelsen, and NM Waser. (2012) Asynchronous changes in phenology of migrating Broad-tailed Hummingbirds and their early-season nectar resources. Ecology 93: 1987–1993
Anderson J, DW Inouye, AM McKinney (Iler), RI Colautti, and T Mitchell-Olds.  (2012) Phenotypic plasticity and adaptive evolution contribute to advancing flowering phenology in response to climate change. Proceedings of the Royal Society of London B 279: 3843–3852
McKinney (Iler) AM and K Goodell. (2011) Plant pollinator interactions between an invasive and native plant vary between sites with different flowering phenology. Plant Ecology 212: 1025­–1035
McKinney (Iler) AM and K Goodell. (2010) Shading by invasive shrub reduces seed production and pollinator services in a native herb.  Biological Invasions 12: 2751–2763
Websites:
http://amymarieiler.weebly.com