The Chicago Botanic Garden has earned a Gold LEED rating from the U.S. Green Building Council for the Daniel F. and Ada L. Rice Plant Conservation Science Center. The Plant Science Center received points in six categories including sustainable sites, water efficiency, energy and atmosphere, material and resources, indoor environmental quality, and innovation and design process. LEED standards increase initial building costs but decrease long-term operating expenses; by choosing to build this way, the Garden demonstrates its ongoing commitment to sustainable building and development practices.
Sustainable Sites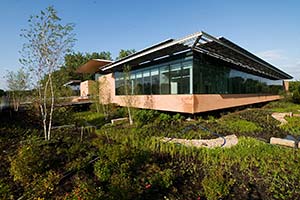 Site Development. The design limits impact on the land by raising the building up on 4.5-foot pillars and landscaping the surrounding area with a rainwater glen that collects and filters runoff from the building and adjacent parking areas.
Heat Island Effect. Light-colored roofing and a green roof garden (16,000 square feet) cover more than 50 percent of the roof area, reducing the heat island effect.
Alternative Transportation. At least seven bicycle racks and two showers are provided for staff to commute via bicycle. Two parking spaces have been dedicated for hybrid vehicle parking only and two parking spaces are for carpool/Vanpool parking only. The Garden already offers a staff shuttle from local commuter rail stations.
Water Efficiency
Water Efficient Landscaping. The Rainwater Glen will surround the building to collect rain water draining from nearby parking areas and filter it within the Garden's plant community. The green roof garden system holds rainwater to be used later by the plants. Native plants were used in landscaping, reducing the need for irrigation by half, and no potable water is used for irrigation.
Water Use Reduction
The building will use 30 percent less water through selection of plumbing fixtures (low-flow plumbing fixtures and valves).
Energy and Atmosphere
Optimize Energy Performance.Careful attention was paid to selection of energy-efficient lighting, mechanical equipment, insulation of exterior walls and roof, windows with low-E and high-performance glass, and air-lock vestibules at all entrances. The building temperature is regulated through radiant heating and cooling built into the floor.
On-Site Renewable Energy.Two hundred eighty-eight solar photovoltaic panels on the roof will provide 5 percent of the power needed to operate the building. Since the building is a laboratory, it will require a considerable amount of energy, this percentage represents a significant energy savings.
Support for the photovoltaic cells has been provided by the Illinois Clean Energy Community Foundation and the Illinois Department of Commerce and Economic Opportunity, Bureau of Energy and Recycling.
Materials and Resources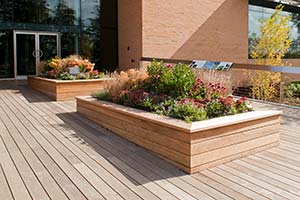 Construction Waste Management. Seventy-five percent of the construction waste was diverted from disposal. The erosion and sedimentation plan included silt fencing, sediment traps, and basins to prevent pollution of the surrounding area.
Recycled Materials. Twenty percent recycled materials (postconsumer and half from preconsumer) were used in the building.
Regional Materials. Ten percent regionally extracted, processed, and manufactured materials (within a 500-mile radius) were used in the building.
Certified Wood. FSC-certified wood was used for half the value of all wood used on the project.
Materials Reuse. Trees that were removed from the building site are now seen in the planters and a wall in the library. Ground tires are seen as flooring in the open office areas. Metal shavings were fabricated into bathroom countertops.
Indoor Environmental Quality
Low-Emitting Materials. Building materials were selected to have no or low volatile organic compounds, such as paints and coatings, adhesives and sealants, and composite wood and agrifiber products.
Daylight and Views. Clerestory windows in the visitor gallery provide natural light in the center of the building. Clerestory windows over the offices that line the north and south sides of the building and pitched ceilings direct natural light into interior open offices.
Construction IAQ Management Plan. Segregated areas were provided for hazardous chemicals or gases with containment drains and high level of filtration. Duct work parts were kept sealed before installation so that they would be clean and dust-free when installed.
Innovation and Design Process
Green Roof Garden. Monitoring equipment will help scientists measure the green roof's insulating effect on the building and other factors that will help them determine the best plants to grow on green roofs.