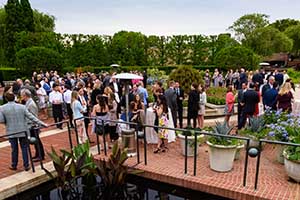 More than 375 guests raised nearly $700,000 at the recent Summer Dinner Dance, the Garden's most important fundraising event. The Board of Directors of the Chicago Horticultural Society presented the event on the summer solstice. The theme of pollinators was woven throughout the evening as a nod to Bees & Beyond, the Garden-wide program that inspires a genuine appreciation for the vital role pollinators play in our lives and in a healthy, diverse planet.
The cocktail party began in the Crescent Garden and Heritage Garden with appetizers and specialty cocktails such as "The birds and the bees" and "Everything's coming up rosé." Guests enjoyed colorful bands of flowers that are attractive to pollinators in the Crescent Garden and a large coneflower feature in the center of the Heritage Garden.
Dinner was catered by Food for Thought in a tent on the enchanting Esplanade. Produce grown by Windy City Harvest, the Garden's urban agriculture education and jobs-training initiative, was incorporated into the meal. The inside of the tent was designed by Revel Décor with tablescapes featuring summer flowers that are attractive to pollinators. Guests danced the night away to the music of Maggie Speaks.
The Summer Dinner Dance was generously supported by Northern Trust and Boeing. Additional support was provided by Beam Suntory and Forbidden Root.
Proceeds from this event will continue to connect people to science, conservation, and nature. 
An image gallery is available for media download here.