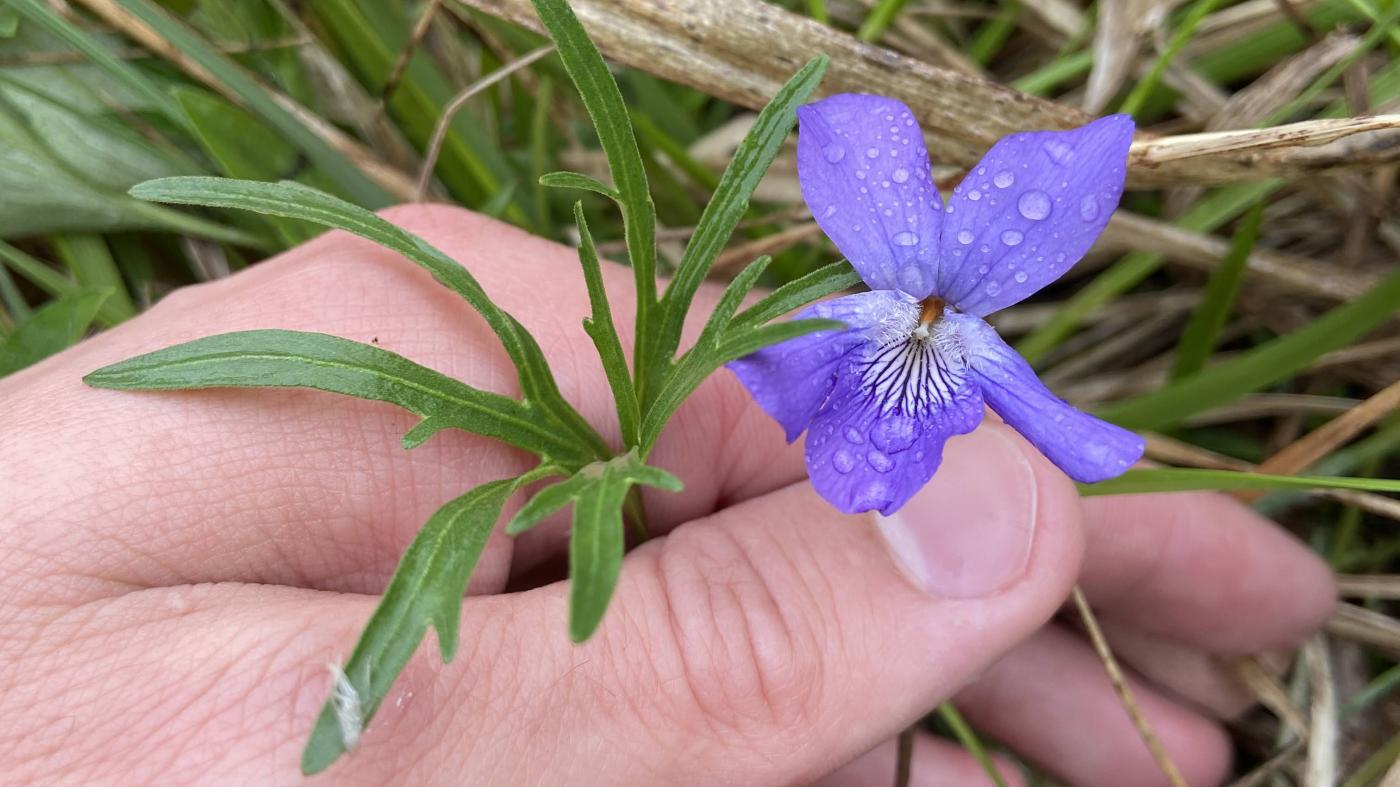 Release Date: Wednesday, June 22, 2022
Viola species play an important role in prairie habitats but are often missing from restoration activities because their seeds are challenging to procure and use to support plant reintroduction. A new study published in the Spring 2022 issue of Native Plants Journal discusses how seed collection, storage, and germination practices may affect Viola reintroduction outcomes. The study, led by conservation scientists from the Negaunee Institute for Plant Conservation Science and Action at the Chicago Botanic Garden, in collaboration with Ball Horticultural Company, shows how seed collection and handling practices can influence the depth of primary dormancy in Viola seeds, significantly optimizing subsequent germination. 
"For many native species, there is a limited amount of in-depth knowledge about how to maximize reintroduction success," said Sam Kilgore, former graduate student in the Chicago Botanic Garden and Northwestern University's joint Plant Biology and Conservation program and current land stewardship manager and native plant specialist for The Conservation Foundation. "We chose to focus on better understanding seed collection, storage, and germination in this challenging and underrepresented group to support reintroduction and lay the foundation for other rare or threatened species that are commonly absent from the native seed market."
Viola species are highly desired in prairie restorations because they provide important early-spring resources for pollinators. Additionally, they act as larval hosts for the at-risk regal fritillary butterfly species that requires suitable Viola populations in undisturbed tallgrass prairies to complete their lifecycle. 
Six perennial Viola species native to the Chicago region were selected for this four-year study, including four species that are listed as threatened in various states such as Illinois, Montana, Vermont, Indiana, Michigan, and Rhode Island, and five that are actively sought after in Midwest restoration efforts. 
"The small stature of these plants, and its explosive dispersal of seeds from ripe fruit capsules, presents a challenge for wild seed collection," said Andrea Kramer, director of restoration ecology, associate conservation scientist, and David Byron Smith Family Curator of Natural Areas at the Chicago Botanic Garden. "Thus, using fruit position and orientation as a proxy, we evaluated how the different stages of seed maturation impacted germination."
This study required specialized skills and facilities for collecting, storing, and cleaning seeds, as well as continuous dialogue and collaboration with restoration practitioners to better understand challenges encountered in the field. The Chicago Botanic Garden is uniquely positioned to do this research because of the expertise of our Negaunee Institute faculty and students, access to natural areas at our Glencoe campus and through our partnerships, and laboratories in the Daniel F. and Ada L. Rice Plant Conservation Science Center. 
Researchers recommend the most effective practices land managers should implement to obtain high seed germination in Viola species include collecting seeds at the time of peak ripeness (at the time of natural dispersal), determining cold stratification timeframes based on species, understanding how environmental conditions and pretreatments impact the seed between collection and germination, and plant establishment into suitable habitat for the successful reintroduction of these species. 
Collaborative research of these Viola species is continuing, with the goal of understanding the impact of plant genetics, as well as the interactions among plants, fungi, and animals on our ability to restore the species to habitats where they have been lost.
An image gallery is available for media download here.

About Chicago Botanic Garden
The Chicago Botanic Garden, one of the treasures of the Forest Preserves of Cook County, is a 385-acre living plant museum featuring 28 distinct gardens and four natural areas. With events, programs and activities for all ages, the Garden is open every day of the year. Located at 1000 Lake Cook Road in Glencoe, IL, the Garden is smoke free. Opened to the public in 1972, the Garden is managed by the Chicago Horticultural Society, accredited by the American Association of Museums and a member of the American Public Gardens Association (APGA).
The Negaunee Institute for Plant Conservation Science and Action at the Chicago Botanic Garden focuses on five core areas aimed at understanding the diversity of plants and fungi; mitigating diversity loss; laying the foundation for healthy ecosystems; studying interactions between plants, fungi, and animals; and investigating connections between people and plants. Through the Science Career Continuum at the Negaunee Institute, the Garden is connecting its own programs for middle- and high-school students with those offering internships and mentoring for college and graduate students. This near-peer mentoring program is preparing a new generation of scientists who have the education and training needed to address the environmental and conservation challenges of our time.