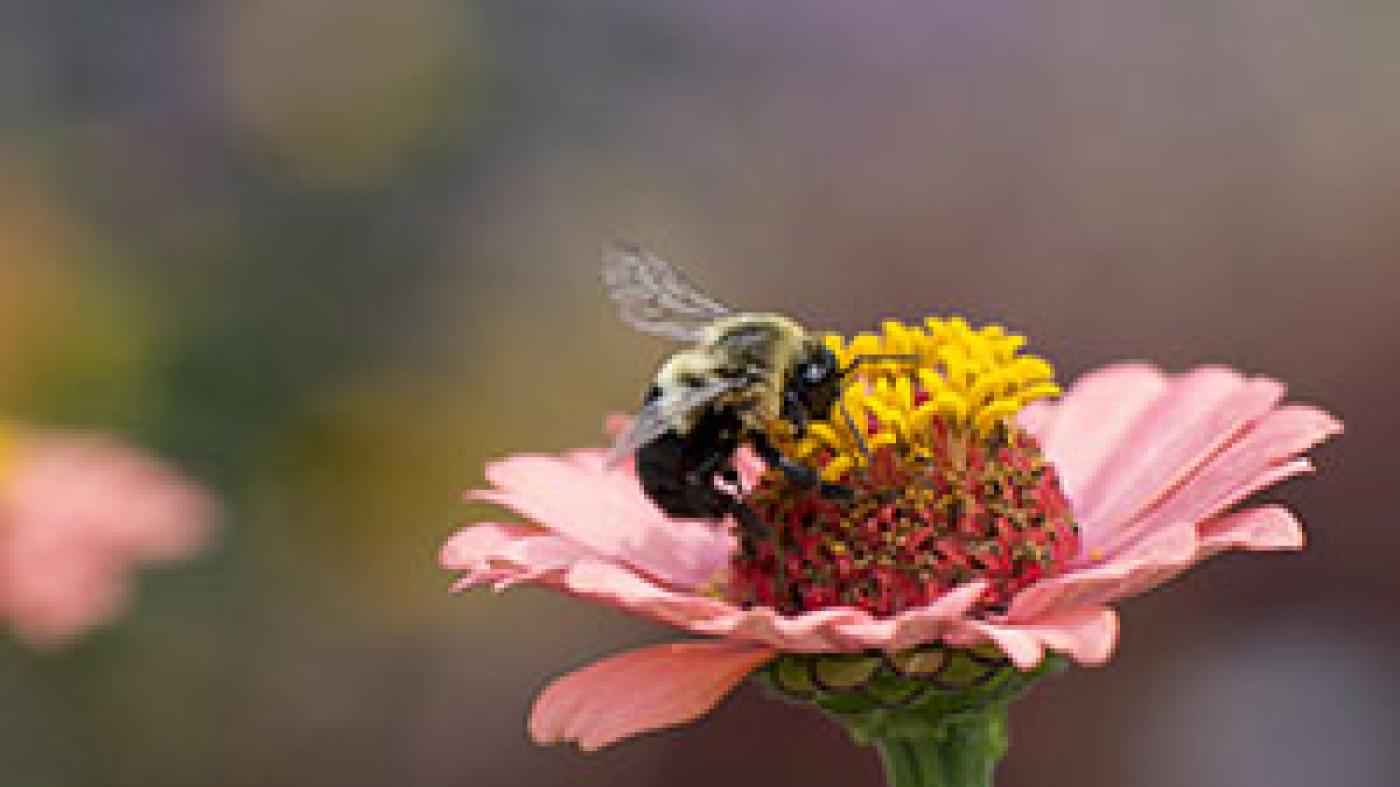 Release Date: Wednesday, June 12, 2019
Explore the fascinating world of pollinators during Bees & Beyond at the Chicago Botanic Garden this summer. Bees & Beyond will inspire a genuine appreciation for the role pollinators play in our everyday lives and in a healthy, diverse planet. 
Visitors will learn about pollination basics, how it impacts our daily lives—from the food we eat to the air we breathe—and major threats to pollinators. Bees & Beyond includes such elements as pollinator-themed display gardens, topiaries, a floral carpet, an interactive exhibition and more throughout the Garden.
Pollinator-themed display gardens will allow visitors to experience color, scent, native habitats and pollination like a pollinator. Stunning topiaries include two rusty-patched bumblebees outside the Visitor Center—the first bumblebees in the United States to be listed as endangered, and a large monarch butterfly on the Regenstein Learning Campus. The floral carpet in the English Oak Meadow is based on rare English hand-colored illustrations found in the Lenhardt Library Rare Book exhibition Pollinator Paradise in Print.
An interactive exhibition, Pollinator's Perspective, highlights the diversity of pollinators and the research of Garden scientists. It is designed to draw attention to lesser-known and equally valuable pollination stories through interactive elements, videos, illustrations and specimens.
Additional events taking place as part of Bees & Beyond include the following:
Pollinators Need You! A Janet Meakin Poor Research Symposium – Saturday, June 22
Learn more about pollinators, why they are important, the threats they face, and what you can do to help them. Presenters will focus on native pollinators, bees and climate change, supporting pollinators in gardens and other natural areas, supporting bees in urban areas, and current pollinator conservation efforts.
After Hours Buzz - Thursdays, June 27, July 11 and 25, and August 8 and 22 
A series of evening events where Garden conservation scientists illuminate the most fascinating plant-pollinator relationship stories with interactive demos, light hors d'oeuvres, and drinks. Locations change based on topic to highlight various display gardens.
Butterflies & Blooms – Now through September 2
A butterfly exhibition filled with hundreds of live butterflies, including species native to South America, Asia, North America and Africa. The 2,800-square-foot mesh enclosure is located on the Regenstein Learning Campus. 
Bees & Beyond is open during regular summer Garden hours, from 7 a.m. to 9 p.m. Additional fees apply for Pollinators Need You!, After Hours Buzz and Butterflies & Blooms. Visit chicagobotanic.org/beesandbeyond for more information. 
An image gallery for media download can be found here.