Chicago Botanic Garden and Lawndale Christian Health Center celebrate the opening of the Farm on Ogden, a 20,000-square-foot, multi-use facility, one of the first of its kind in the nation that will bring together job training and certificate programs in farming, food safety, cooking and nutrition, a 7,300-square-foot indoor greenhouse, year-round farm stand, 50,000-gallon aquaponics system, commercial and teaching kitchen for community nutrition education, aggregation space for urban farmers and will be headquarters for Veggie Rx, a program that offers free vegetables to qualified participants as one solution to diabetes, heart disease and obesity. The Farm on Ogden opens June 23.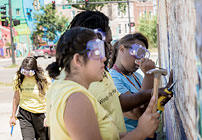 Chicago Botanic Garden And Lawndale Christian Health Center Open 20,000 Square-Foot Farm On Ogden.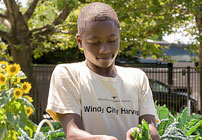 Farm on Ogden aims to bring fresh produce and jobs to troubled North Lawndale, by Greg Trotter.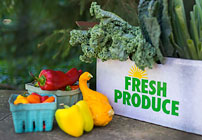 A Prescription For Better Health: New Farm Opening In Lawndale by Bernie Tafoya.