Ornamental grasses for fall—and throughout the year
Fall will soon settle in at the Chicago Botanic Garden and that's an invitation to engage your senses. It's a time of abundance and dazzling colors, of fragrance and sumptuous berries, and of trees and shrubs resplendent in their autumn garb.
The usual stars—pumpkins and asters, kale and chrysanthemums—are plentiful. In the Regenstein Fruit & Vegetable Garden, the soft sunlight falls on lush pears and apples on the branches of elegantly trained fruit trees. But it's the ornamental grasses, from the low-growing Japanese forest grass to the 6-foot-tall big bluestem that are subtle scene-stealers. Ornamental grasses add texture, color, and movement as their seedheads dance on the breeze. The plants are even more striking when they are backlit by the setting sun.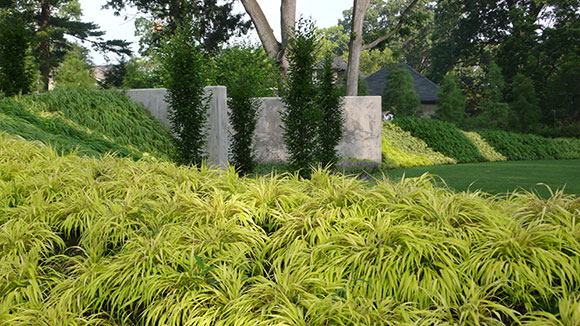 Japanese forest grass (Hakonechloa) is a favorite of Richard Hawke, the Garden's plant evaluation manager. Growing about 1 to 2 feet tall and wide, Hakonechloa thrives in part sun to full shade, and likes moist, but well-drained soil. "When grown as a specimen, it's phenomenal," Hawke said. "The grasses cascade and are almost perfectly round and they don't open in the center." This short, clump-forming grass brings a pop of chartreuse to the shade where it creates a waterfall effect. The leaves turn rosy-green in fall, and it's a good partner with hostas, ferns, and heuchera.
"It's such an amazing grass. It's one of those plants that always looks like it's moving. Structurally, it's one of my favorites."

– Richard Hawke, the Garden's plant evaluation manager
Here's a look at some other grasses that look great in fall: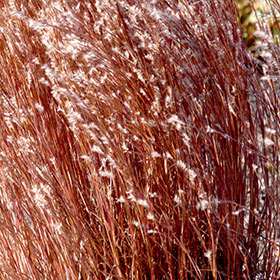 Little bluestem
(Schizachyrium scoparium 'Jazz')
This native grass cultivar grows to 24 inches tall and 18 inches wide with silvery-blue upright foliage. "During the growing season and in fall, they have such great color," Hawke said. Little bluestem tolerates deer, drought, and dry or shallow-rocky soil. The fall foliage turns mauve and purple. Plant it in full sun and pair it with flowering perennials like butterfly weed (Asclepias tuberosa) and Coreopsis.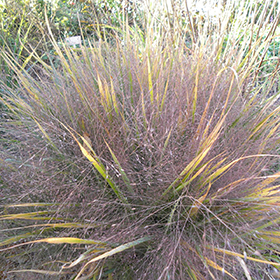 Purple love grass
(Eragrostis spectabilis)
Purple love grass is another native plant that's useful in the front of a sunny flower bed. It forms a clump about 1 to 2 feet tall, grows in average soil, and tolerates a drought once the plant is established. The light purple flowers appear in midsummer and when several plants are grouped together, the flowers look like a purple haze floating over the leaves. The best part: the leaves turn a beautiful red in fall. This is one tough plant for dry, sunny conditions. (Photo via Toronto Botanical Garden)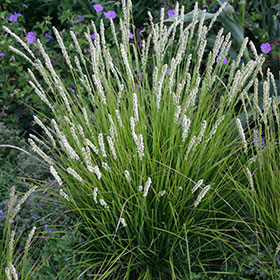 Autumn moor grass
(Sesleria autumnalis)
Autumn moor grass grows about 12 inches tall and wide. A cool-season grass, its leaves emerge in spring, far earlier than warm-season grasses, such as prairie dropseed. Tiny white flowers appear in midsummer. Often described as a little workhorse, this grass pairs nicely with coneflowers and other sun-loving perennials.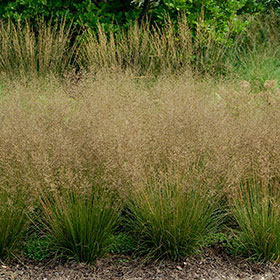 Prairie dropseed
(Sporobolus heterolepis 'Tara')
'Tara' is a dwarf version of our native prairie dropseed. Growing 2 to 3 feet tall and wide, this vase-shaped grass turns golden yellow and sometimes bronze-orange in fall. Pink to light purple flowers appear in late summer, and many gardeners say the flowers smell like buttered popcorn. Hawke likes the plant for its fine-textured leaves, longevity, and drought tolerance. "I think it's one of my favorites, whether it's the species or 'Tara'. They're both beautiful plants. On our green roof we're growing the species and 'Tara' together. They have a different-colored inflorescence (flowers) and different habits."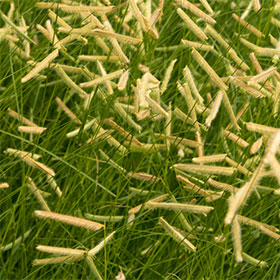 Blue grama grass
(Bouteloua gracilis 'Blonde Ambition')
Named for the pale horizontal flowers that look like little flags, 'Blonde Ambition' grows about 1 foot tall while the flowers extend up to 3 feet. This native cultivar holds its seedheads into the winter, and it's a low-maintenance, unfussy grass. (Photo via Doreen Wynja for Monrovia)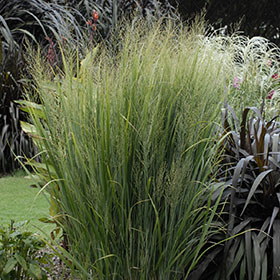 Switchgrass
(Panicum virgatum 'Northwind')
'Northwind' switchgrass is a native cultivar that starts blooming in July. Plant it in full sun to part shade. The flower stems can reach up to 6 feet tall. The blue leaves turn a yellow-beige in fall, and the delicate seedheads often persist into winter.
---
Learn more about using ornamental grasses in your landscape in Richard Hawke's Fine Gardening article, Battle of the grasses.
---
Nina Koziol is a garden writer and horticulturist who lives and gardens in Palos Park, Illinois.