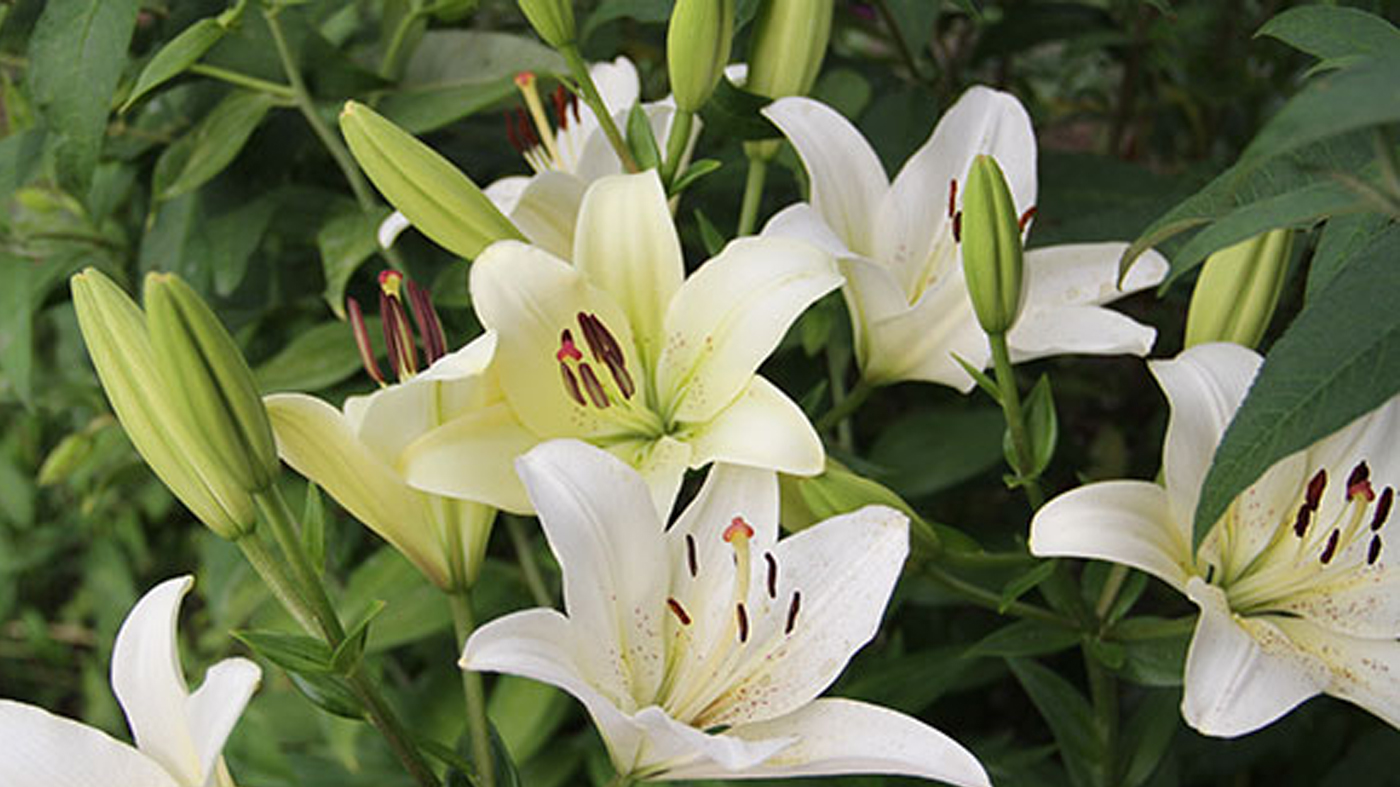 Fragrant white lilies are the stars of a moon garden.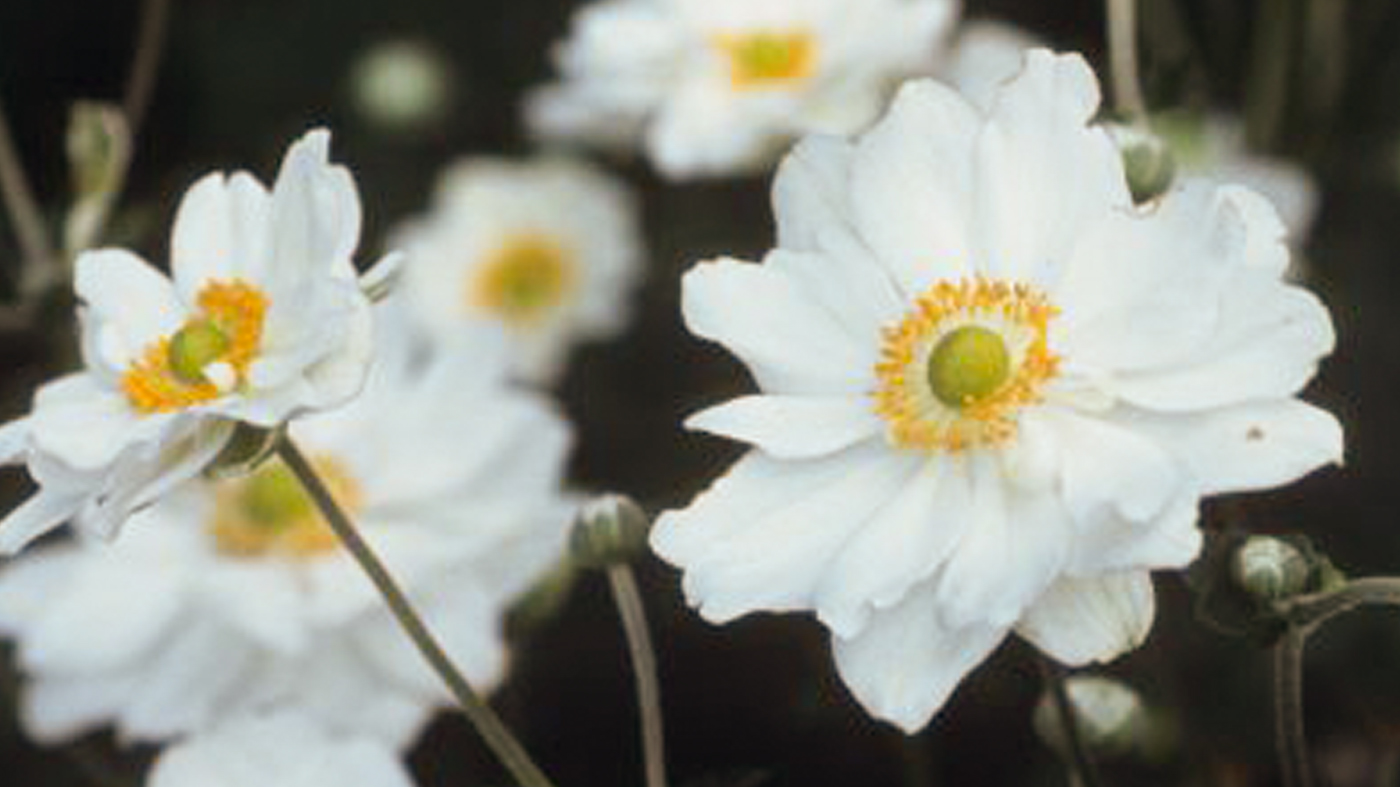 Anemone x hybrida 'Whirlwind'
"And still within a summer's night  
A something so transporting bright, 
I clap my hands to see."
— Emily Dickinson (1830-1886)
The reclusive American poet, Emily Dickinson, was devoted to gardening and no doubt spent evenings wandering her family's gardens and meadows for inspiration. There's much to be said for taking a stroll on a summer's eve at dusk. The garden becomes mysterious and ethereal. By the summer solstice in June, you'll hear the birds singing as the sun sets late in the evening. The birdsong is slowly overtaken by a chorus of crickets and cicadas. The rising of fireflies from the shrubs and meandering moths in search of nectar all add to the enchantment.
---
At dusk, vibrant flowers—the reds, oranges, blues and purples that were so striking during the day—begin to fade as shimmering white blossoms and silver and white-splashed foliage start to glow. This is the time when the moon garden, or white garden, comes into its own.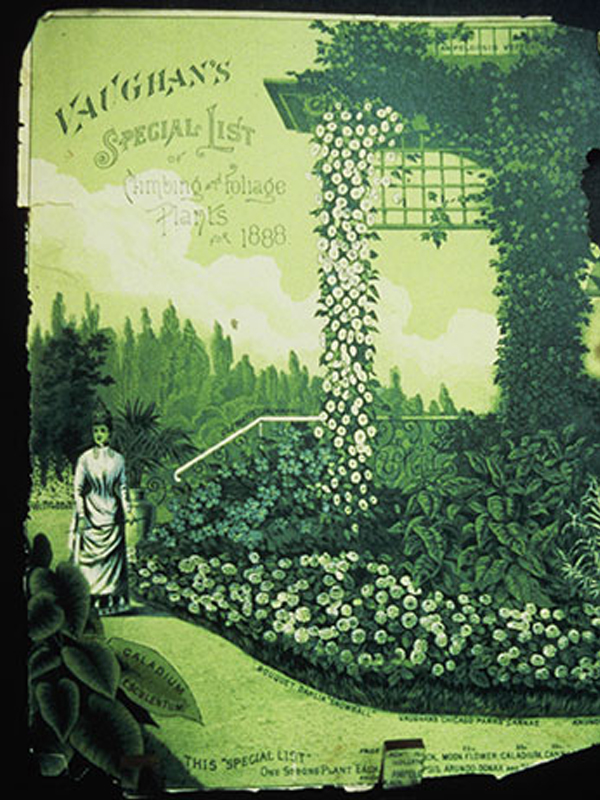 Moon Gardens of the Past
One of the earliest recorded moon gardens in the United States was designed in 1833 by Benjamin Poore at Indian Hill in Massachusetts. It featured two 700-foot-long borders that were each 14 feet wide and filled with white candytuft, daffodils, lilacs, flowering almonds, foxgloves, lilies and many other white-flowered perennials and shrubs. He "accessorized" the moon garden with a herd of white cattle, white pigeons and a white dog. You could say he was a bit eccentric.
An illustration from the Vaughan's Seed catalog, published in Chicago in 1888, shows a young women standing in a moon garden, surrounded by a moon-flower vine, caladium and white dahlias.
The most famous white garden is likely that of Vita Sackville-West, an English writer who lived at Sissinghurst Castle in Kent, England. By the 1950s, she had filled it with white-flowered roses, peonies, irises, hydrangeas, Japanese anemones and many others.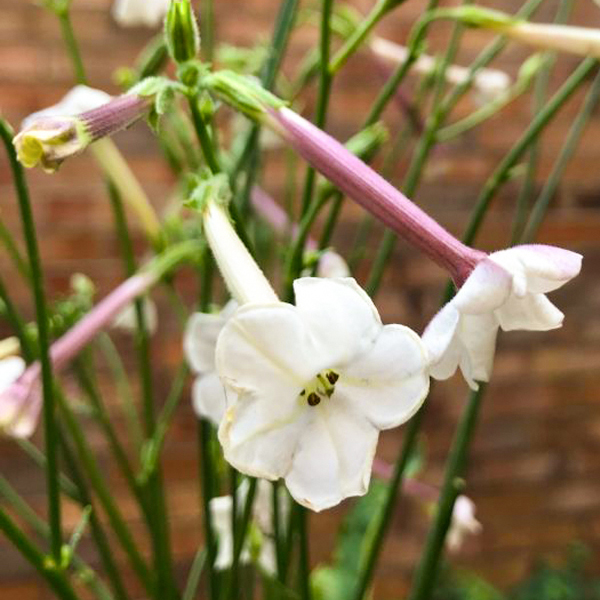 Sweet-Scented Tobacco 'Nicotiana suaveolens'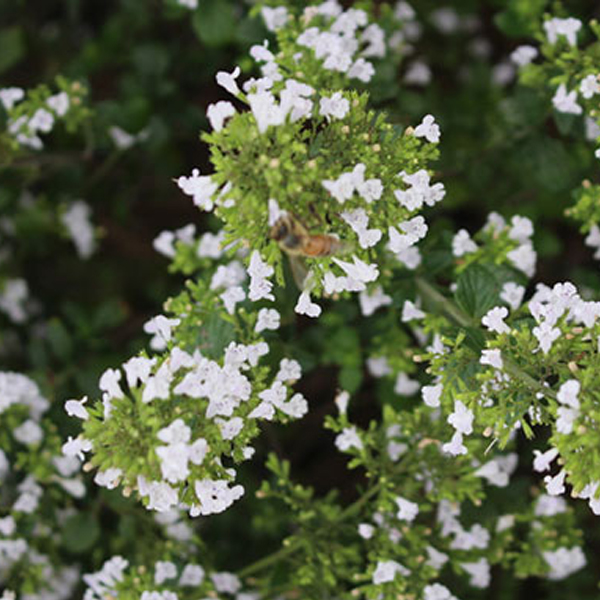 Plant Calamintha to attract a host of (daytime) pollinators to your garden.
Get Glowing
A moon garden near a front entry is a pleasant greeting for you and your visitors. You can plant a moon garden around a patio, balcony, deck, rooftop or porch. You can plant a moon garden in a window box or in pots around a door, a gate, or at the head of a path. Silver, white or variegated leaves will work, too. Here are some favorites.
The jasmine-scented annual tobacco flower (Nicotiana sylvestris) sports graceful nodding trumpet-like blossoms on plants that grow 3 to 5 feet tall. It's easy to see why this plant is often called "white shooting stars." The flowers, which release their fragrance at dusk, attract night pollinators, such as moths. Grow the plant in full sun to part shade where it will bloom from summer to fall.
Moonflower vine (Ipomoea alba) is an annual twining vine that produces 6-inch-wide trumpet-shaped blooms that twirl open at dusk. The Victorians trained moonflower vines along their porches where their nocturnal blooms could be enjoyed in the evening. Sow the seeds indoors about April 15 and transplant them outside a month later in a bright, sunny spot. Encourage the stems to twine around arbors, fences or railings using twist ties or twine.
White, fall-blooming anemones
Fall-blooming Japanese anemones (Anemone × hybrida), also called windflowers, will extend the moon garden well into September. White-flowered types include 'Honorine Jobert' and 'Whirlwind' and can grow up to four feet tall. Grow them in a sunny cottage garden, a perennial border, or in a spot with part shade where they can partner with hostas and astilbes.
For the shade garden, the annual caladium (Caladium bicolor) is grown for its bold, colorful foliage. In the moon garden, a caladium's white and green variegated leaves paired with white-flowering astilbe glow at dusk. Garden centers offer caladium plants and corms (solid underground stems that look like a bulb) in the spring. Caladiums are best grown in moist, fertile soil or in containers filled with soil-less potting mix. Grow them in part shade, bright shade or filtered sunlight. Planted in full sun, the leaves will scorch. Caladiums grow well in pots, window boxes and in the ground where they can rub elbows with ferns, hosta, astilbe, perennial geraniums, and other ground covers. 
One of the longest blooming perennials in the Chicago area, calamint (Calamintha nepeta ssp. nepeta) produces fragrant, white flowers that attract a host of pollinators. The low-growing plant is beautiful sprawling over a retaining wall, in the front of a sunny border or used an edging plant for paths, patios, and herb gardens. Calamint typically blooms from June through September. It's also deer resistant, which is a bonus.
More Plants for the Moon Garden
Sun-Lovers 
(Choose white-flowered varieties that will glow at night.)

Asclepias 'Ice Ballet' 
Buddleja 'White Profusion' 
Cosmos 
Dahlias 
Daisies 
Gypsophila (baby's breath) 
Hydrangea 'Annabelle' 
Iris 
Lilium 'Casa Blanca' 
Phlox 'David' 
Salvia 
Snapdragon 
Sweet Alyssum 
Tuberose 
Veronicastrum (Culver's Root) 
Viburnum, Korean spice 
Zinnia

Shade-Lovers 
(Plants with white flowers or variegated foliage will brighten the shade garden at night.)

Actaea 'Hillside Black Beauty' (black snakeroot) 
Aruncus (goat's beard) 
Astilbe 'Bridal Veil' 
Athyrium 'Ghost' (ghost fern) 
Begonia 
Brunnera 'Jack Frost' 
Caladium 
Dicentra 'Alba' 
Helleborus 
Hosta 'Elegans' 
Tiarella cordifolia (Allegheny foamflower)
Enhance the Moon Garden Experience
Add pots of herbs, such as rosemary, oregano and thyme that release their fragrance when touched.
When entertaining outdoors, place lighted candles on tables or along paths to add to the moonlit ambience.
Consider adding a small water feature or fountain.
Low-voltage outdoor lights help illuminate steps and pathways.
Install some outdoor speakers for a little night music.
Not everything at night is magical—keep some mosquito repellent on hand!
---
Nina Koziol is a garden writer and horticulturist who lives and gardens in Palos Park, Illinois.