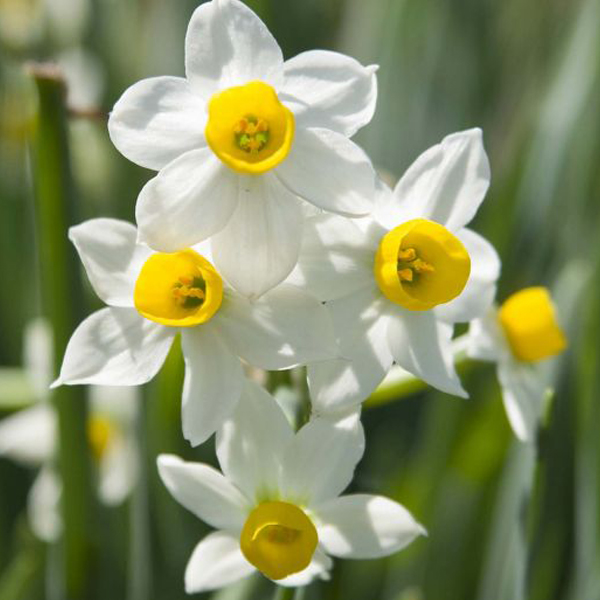 We admit to a weakness for daffodils here—last time we counted, we came up with quite a grand total: more than half a million daffodils are planted at the Chicago Botanic Garden!
In fact, last year in Smart Gardener, we talked about daffodils twice, in both the April article (on planning) and again in the November article (on planting, when you need it in fall).
This April, we want to focus attention on a particular subset of the enormous genus Narcissus: the smallest daffodils, both miniatures and species, that often go unnoticed and unplanted.
---
What makes a miniature?
The American Daffodil Society (ADS) refrains from an official definition or separate division for miniatures (although it sanctions a cultivar list: daffodilusa.org/wp-content/uploads/2014/01/ADS-Miniature-Daffodil-List.pdf). Because daffodils' bulbs are site-dependent—putting out larger or smaller flowers each year, according to sun/soil/water/weather conditions—the term "miniature" is a moving target that's hard to standardize.
In general, however, the ADS and reputable daffodil companies (like Brent and Becky's Bulbs) consider miniatures to be about 6 inches tall, bearing flowers about 1 inch in diameter. Here's what's key: miniatures are miniatures not just in height, but in all physical features. All the art, in a smaller package.
---
Think of your favorite standard daffodil
There's probably a miniature with a similar look. There are mini-trumpet daffodils (traditionally Division 1), as well as triandrus (Division 5), cyclamineus (6), jonquilla (7), and tazetta (8). The bulbocodium (10), miscellaneous (12), and species (13) divisions rank high in miniature numbers.
Also, like standard daffodils, miniatures flower at different times: there are early, mid-, and late-spring bloomers, all of which can add up to an extended period of bloom if they're located well.
Speaking of location
even an experienced gardener can feel stymied when it comes to siting miniature bulbs. In the next week or two, take a good look at your yard before the trees leaf out, and you may be surprised by the bulb location opportunities. Take a few digital photos now so you can refer to them when it's time to plant bulbs this fall.
We have a few location suggestions
In shrubby areas
Miniatures squeeze in nicely beneath shrubs, lighting up those lifeless spots found in every yard. Timed to bloom with a flowering shrub, like azaleas, mini-daffs can be thrilling. Try miniatures in clumps around conifers, too—dark greens make a great backdrop for dainty, bright flowers.
Under trees' canopies
The same idea works under trees—especially those that don't encourage much to grow beneath them, like Norway maples. Imagine that typically bare, gray spot in the yard as a staging area for hundreds of mini-daffodils instead.
Along the walkways
Tucked right at the edge of sidewalks and paths, dainty daffodils delight visitors and homeowners as they open up in spring. Even a clump or two is enough to stop the neighbors in their tracks.
As punctuation in ground cover
Popping up through established ground covers, mini-daffodils turn the ordinary into a photo op. Try them with a flowering ground cover, like Phlox subulata, for a magazine cover-worthy effect. Use a narrow trowel to dig holes for bulbs (three times the depth of the bulb itself) through the ground cover (limits root damage) and plant them randomly (no straight lines!).
In containers
Mass miniature bulbs in a large container for the front porch or at the garden gate. Be generous and position bulbs closely together for maximum impact.
We plant miniatures in high-traffic areas where visitors are can see them clearly before the rest of the garden comes to life. This month, plan a walk through the Garden to see these varieties in situ:
---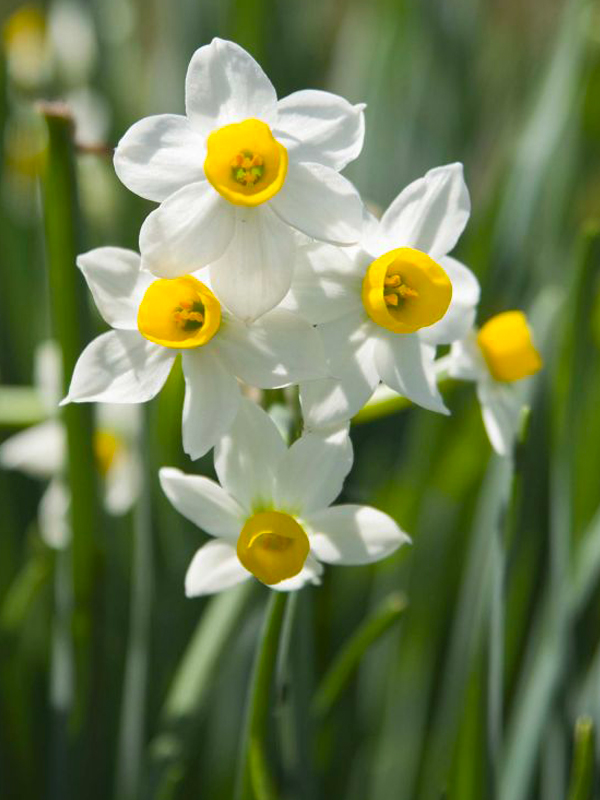 Narcissus 'Canaliculatus' puts a happy face on the Graham Bulb Garden in midspring, with pretty white petals and a sunny yellow cup. A tazetta-type (like paperwhites), it's wonderfully fragrant, too.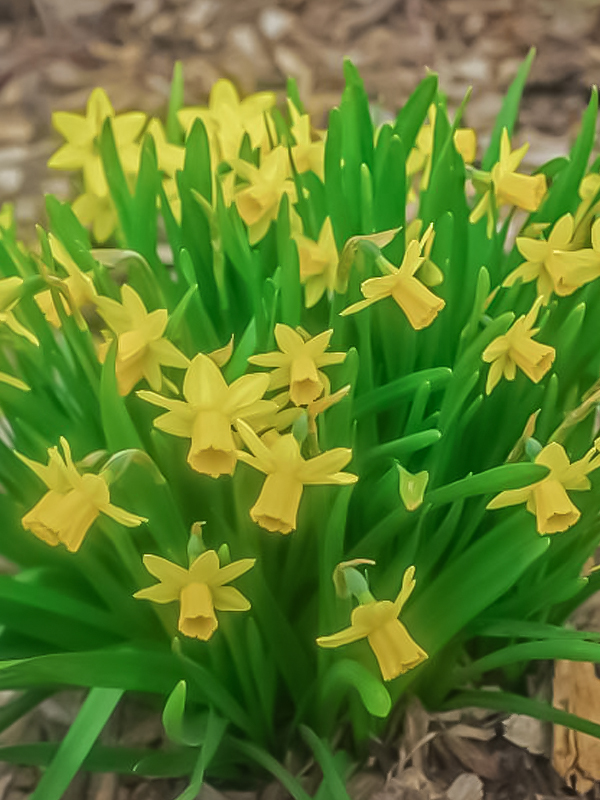 Narcissus 'Little Gem' and N. 'Jumblie' share an unusual location—beneath the apple trees in the Regenstein Fruit & Vegetable Garden orchard—where 1,000 of each look wonderfully naturalized. Well worth the walk.
---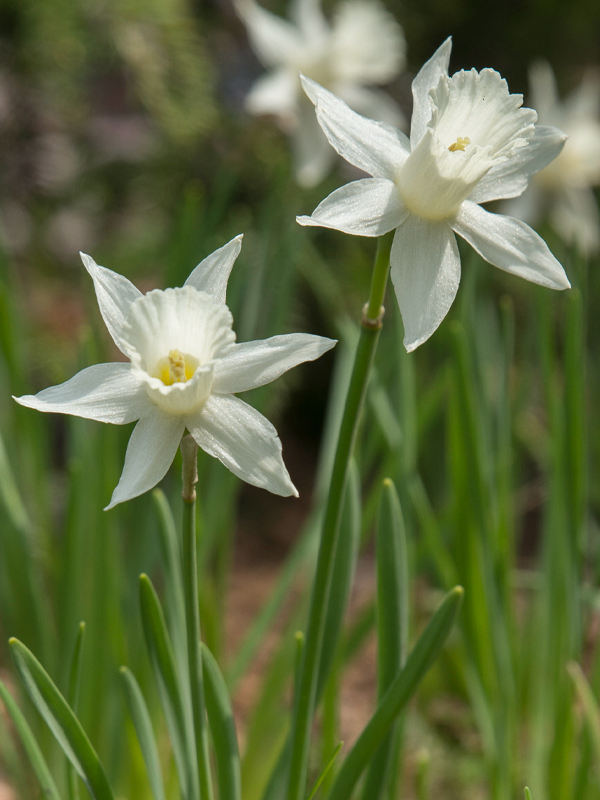 Narcissus 'Baby Boomer',  N. 'Baby Moon', and N. 'Elka' are dotted about the Rock Garden, a desirable site for bulbs, given its well-drained soil and warmer temperature.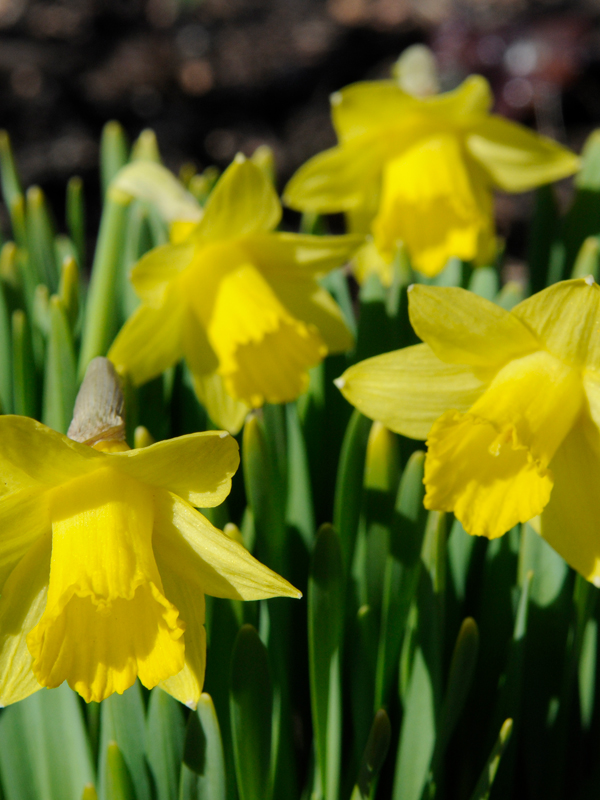 Narcissus 'Tête-à-Tête' waves you on your way as you leave the Garden—it's the miniature that's popping up under trees near the parking lots.
---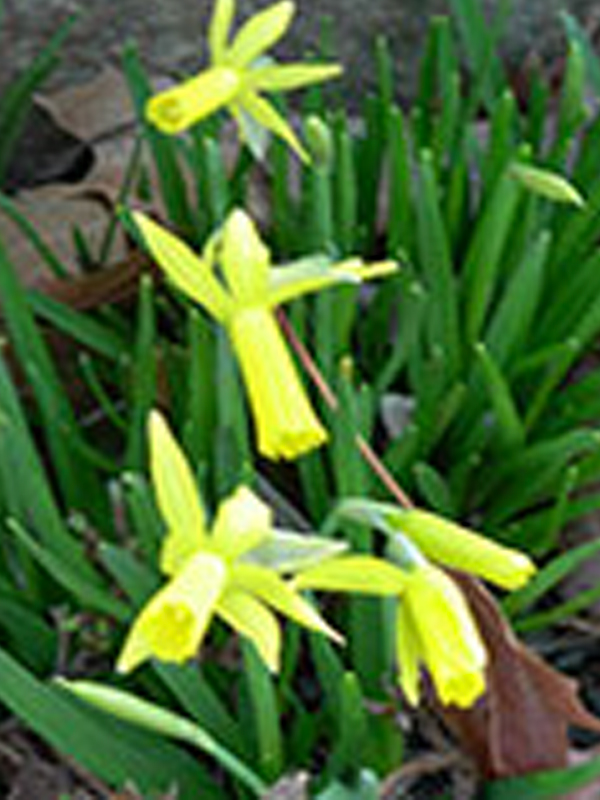 Narcissus 'Mite' challenges your image of a mini-daff: a cyclamineus with a long, long trumpet and a zoom of reflexed petals. In the Dwarf Conifer Garden, there's a mighty show of 600 'Mite' minis.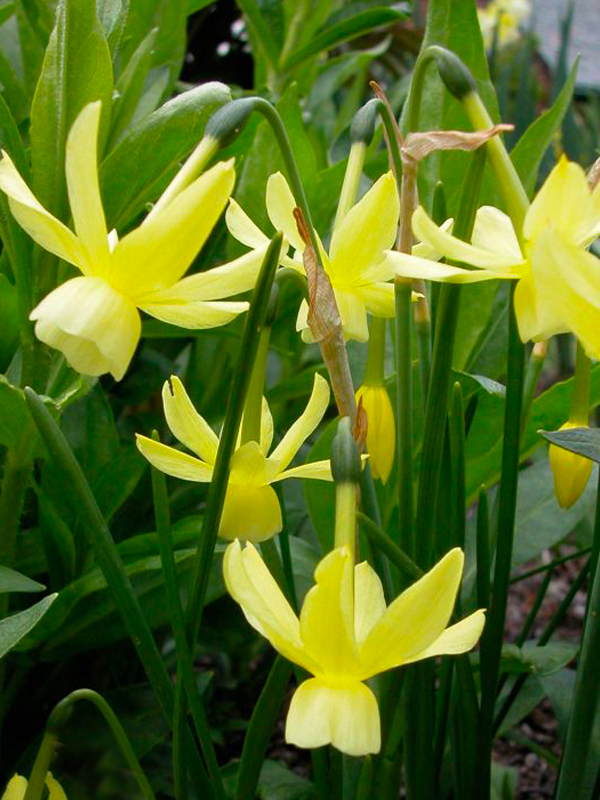 Narcissus 'Hawera' dates back to 1938 and is still a perennial favorite with the reflexed petals and multiple flowers per stem, typical of triandrus daffodils. Look for it in the Heritage Garden.
---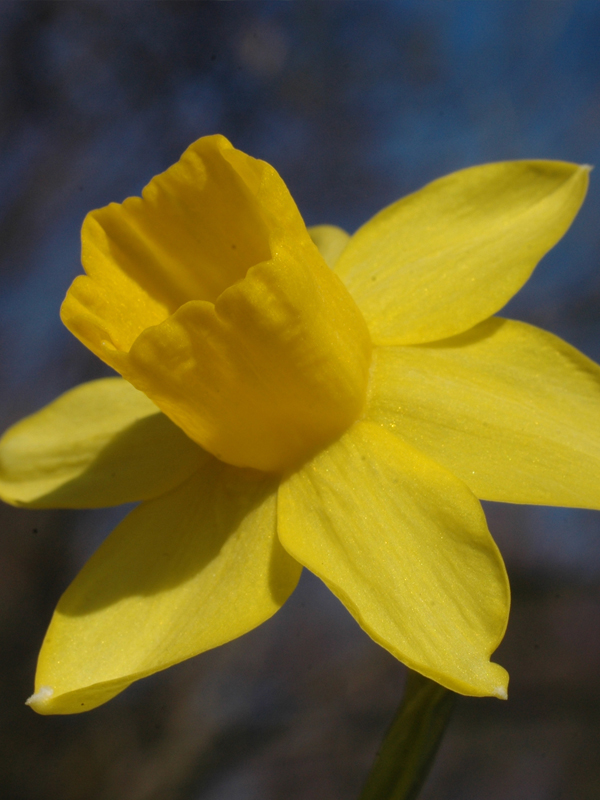 Narcissus 'Quince' is the mini that bobs beneath the birches in front of the Regenstein Center. Thousands of them are planted there with good reason: they can tolerate both sun and partial shade.
One final mini-note
The species daffodil Narcissus bulbocodium, also called Hoop Petticoat, has miniature hybrids such as 'Golden Bells' that are pure delight in the garden. All corona and no petals (they're hidden by the cup), they're so visually striking that I planted them next to the first porch step at my house 15 years ago—where they've made my heart sing every spring.
What more could a smart gardener ask?
---
Karen Zaworski is a garden writer and photographer who lives and gardens in Oak Park, Illinois.