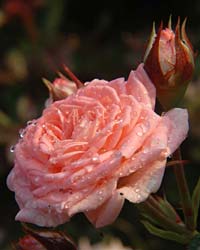 Clouded in mystery as to their exact origin, today's charming miniature roses are most likely descendants of the old Chinese rose, Rosa chinensis. Hybridizers recognized the intriguing qualities of these small-flowered plants and refined them to the point where they bloom in all the colors and combinations of their large-flowering relatives. Some are fragrant; most are repeat bloomers; and they are quite winter hardy, since they're grown on their own rootstocks. But perhaps what endears them to city gardeners, container aficionados, and flowering plant lovers is their adaptability to indoor conditions — they bring summer's beauty to a cold winter's night.
What is a miniature rose? Originally, it had to fit under a teacup. Growers agreed that to be a recognized class in rose shows, a broader definition was required. Dwarf in the true sense of the word, a mini should be a perfectly scaled-down version of a large-flowered rose. Flowers, buds, leaves, stems, and even thorns must be in perfect proportion to each other. Within the category are those that resemble hybrid teas, floribundas, climbers, and even creeping ground-cover roses. Some flowers resemble old garden roses; some are borne singly on as long a stem as possible for a mini. While the average mini grows 1 to 2 feet, there are micro-minis no taller than 6 inches and climbing minis that grow to 10 feet, with each plant a dwarf version of the full-sized variety.
Culture for miniature roses is the same as for the full-sized plants. Minis purchased in winter must be grown in a southern window or under artificial lights. As temperatures warm in spring, gradually introduce them to outdoor conditions. Once danger of frost has passed, they can be planted in garden beds or containers in a full-sun location. Water to keep the soil evenly moist and fertilize with a dilute, balanced product. Deadhead spent blossoms or cut the tiny flowers to display indoors…in a teacup. Minis purchased from a nursery in late spring or summer can go directly into the garden or outdoor containers.
As the growing season draws to a close in fall, minis planted in the garden can remain there all winter if given adequate protection. Those growing in containers may be dug up, pruned back, repotted in a good potting mix and gradually brought inside before frost arrives. See a collection of beautiful minis blooming outdoors in the Rose Garden during spring, summer, and fall.