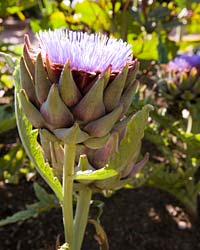 When you were a child, did everything you ate — meat, potatoes, vegetables — have to be given its own special space on your plate, not touching anything else? Gardening can be approached with a similar mindset, by growing vegetables in neat, rectangular plots and flowers in their own beds. This approach implies flowers are to look at and vegetables are to eat. And fraternization is frowned on.
But things are changing. To see what's happening in today's gardens, one has only to visit the Regenstein Fruit & Vegetable Garden at the Chicago Botanic Garden, where traditional approaches to gardening are giving way to new, less restrictive thinking. Throughout the demonstration gardens, you can see how vegetables, fruits, and herbs are grown for their ornamental beauty as well as for their taste. Flowers are grown to be eaten, as well as to look good. Along with herbs and even a few berries, they're all grown together in beds that are an eclectic mix of the edible and the ornamental. And supplementing the in-ground beds and borders are containers of every kind, including pots, window boxes, hanging baskets, and wall planters. The idea is to use plants in completely new ways.
As for ornamental vegetables, who would have thought a few years back that lettuces, peppers, and eggplants would be grown for their vibrant color as well as for their taste? Color is the big news in vegetables these days, and the catalogs offer some real surprises. There are white pumpkins, both miniature ('Baby Boo') and standard ('Lumina'); orange watermelons ('New Queen'); purple snap beans ('Royal Burgundy'); and purple asparagus ('Purple Passion'). There's a Swiss chard called 'Bright Lights' with stems colored yellow, orange, red, purple, green, and white. And there are lettuce varieties in various shades of red, including a deep burgundy intriguingly named 'Merlot'.
Peppers, both sweet and hot, are more colorful than ever. 'Ariane' is a deep orange, 'Early Sensation' is gold, and 'Chocolate Habanero' is just as the name says. 'Chinese Five-Color' goes from purple to cream to yellow to orange and finally to bright red. The 'Peruvian Purple' is purple all the way through, in foliage as well as fruit. But eggplants are the hot vegetable right now. Traditionally purple, they now appear in almost every color, size, and shape. 'Snowy Hybrid' is white; 'Green Goddess' is a cylindrical pale green; 'Ping Ting' is long and lavender; 'Green Dragon' is small, round, and pale green with dark green stripes; 'Turkish Orange' is a deep orange of tennis-ball size; and 'Blue Marble' is grapefruit-sized, white overlaid with purple. Vegetables like these can rival any blossoms and are planted freely in garden beds with equally colorful (and edible) flowers.
In the Regenstein Fruit & Vegetable Garden, some beds feature hot and cool colors coming from early season pansies, violas, lettuces, and calendulas tossed together like a big, colorful salad. Plants with edible flowers include pansies, violas, calendulas, nasturtiums, yucca, hibiscus, and sweet peas, all used as garnishes or as ingredients in salads. Later-season daylily blossoms can be served steamed, and squash blossoms can be lightly battered and sauteed. Artichokes, which are actually edible flower buds, require a longer growing season and can be started indoors. The seeds of sunflowers are also edible, enjoyed by birds as well as gardeners. New sunflower varieties include dwarf plants such as 'Elf', only 16 inches high — just right for an indoor window garden.
Gardeners are encouraged to have some fun with their gardens. Create a garden for children to enjoy with plants such as purple beans with little white pumpkins, or gourds, which are not edible but are fun for kids. Try some alpine strawberries with your vegetables and flowers. They make a beautiful edging plant and bear fruit all summer. And why do herbs have to be confined to their own separate bed? Parsley and the dwarf varieties of basil are wonderful in containers and hanging baskets, planted alongside lettuces, dwarf Tiny Tim tomatoes, sweet peas and dwarf Thai Hot peppers. And spring greens including red lettuces and bright green parsley can do a good job of covering up the yellowing foliage of your tulips.
To get the most out of your garden, enjoy the whole plant, not just the end product. This might mean letting some of your broccoli go to flower. It's a beautiful plant and a great attraction for pollinators. The same is true of mustard, not only a great salad green but absolutely gorgeous if you've ever seen a field of it in bloom. And if you grow enough, you can let it go to seed and make your own mustard! And asparagus? It's more than a tasty vegetable — it's also a beautiful, ferny-foliaged hedge.
Gardeners, it's time to break new ground and let yourself go. A visit to the Regenstein Fruit & Vegetable Garden will provide you with ideas for seasons to come.