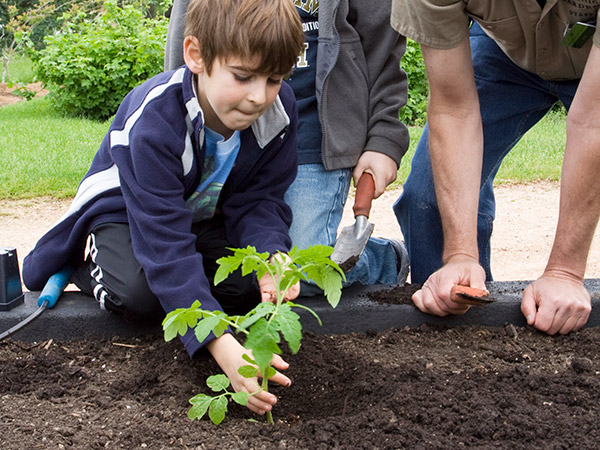 Rory Klick, former manager of Community Gardening at the Chicago Botanic Garden, shares her expertise about gardening with children.
A powerful pull
Through my work with community and school gardening, I have gardened with thousands of kids from varied backgrounds, from the preK crowd through teenagers (not to mention my own children). They all seem to love the same thing — creating a place of their own, making something beautiful. It is a powerful pull for those of us who consider ourselves gardeners, whether by profession or avocation.
Many of the kids I work with have never held a trowel, but after they plant and help create a garden, they're anxious for more. When will the plants flower? When will they fruit? What is this one called?
Gardens are places of discovery, perfect for digging up worms or finding a spider web decorated with dew. Conveying to children that worms or spiders are bad is simply passing along prejudices. In fact, worms are very beneficial to the soil, and spiders are important predators to keep insect pests at bay. Lessons that sound too much like school are easily covered in the informal environs of the garden. In addition, foods that might turn up little noses become highly desirable when grown by the kids themselves.
Why garden with your children?
• To do something truly positive together
• To learn something new together
• To get outside, away from the television and anything else electronic
How to garden with your children
Start small and keep it simple. You don't need the latest, most expensive gadgets. Plant a few seeds in paper cups, make a label with a popsicle stick, and seeing what comes up may be the best way to begin. Take a walk in your neighborhood and look at different plants. Draw pictures or start a journal of what you see.
It's OK to get dirty. Gardening involves soil. I've had children show up at the school garden with surgical gloves and say their parents told them not to touch anything dirty. Put on gloves if you must, but realize that dirt happens and that it's perfectly natural — maybe even fun.
Be the grown-up but not the boss. It's fine to guide and teach, but keep things light and fun. Let gardening activities be kid-based. Allow children to choose the seeds, the plot, the plants. Let go of being in charge and simply learn together.
It's OK to fail a little. Not every seed will grow, and not every plant will thrive. There are lessons to be learned from these failures (but make sure you plant a few extra seeds so that little ones aren't too disappointed).
Kids think differently. Hot pink and bright orange might be beautiful to your 4-year-old. A garden of plants that look like they came from Mars could be all the rage to your 8-year-old. Let them experiment and do their own thing, even if it's not quite to your taste.
Take advantage of teachable moments. Take the time to just be in the garden with your little one, even if neither of you is being productive. If you're watching the bees buzz from flower to flower, there's a pollination lesson in front of you. The weeding, watering and harvesting will need to get done; but really, what's the rush? Gardening with children is all about having time to invest in the future.