Give native bees a helping hand by installing a homemade nesting block in your home landscape. Affectionately called "bee condos," a little wood, some glue, and a drill with various bit sizes is all it takes to invite nature's best pollinators to call your garden home.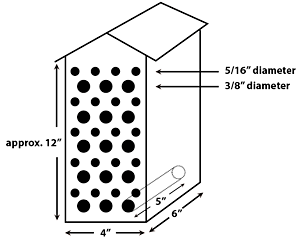 Rot-resistant cedar or redwood are excellent materials to use, but recycling-minded gardeners can reuse whatever wood they have or reclaim, as long as they are sure it has not been treated with chemicals. Untreated wood is readily available at big-box stores and lumberyards. Ask them to cut blocks to length with an angle at one end for the roof.
Unless you're talking nectar, bees aren't fussy. They want shelter from the elements and a suitable place to nest. A block of wood 4 inches wide, 6 inches deep and a foot tall is a good size. Or glue together several foot-long pieces of 4- by 6-inch boards with predrilled holes.
A bee condo creates a community, and drilling holes in different sizes encourages diversity. Alternating rows of holes that are five-sixteenths in diameter with rows that are three-eighths is recommended. Or have more than one condo with different sizes of holes to attract different kinds of bees. Holes of all sizes should be about 5 inches long.
The finishing touches are adding an overhanging roof and drilling a hole in the back to make installation easier. Make the project extra fun for kids by letting them decorate the outside of the bee condo.
Mount the bee condo near flowers or trees in a sunny location that's protected from wind. It can be placed anywhere between 3 to 15 feet off the ground. A spot near eye level — or at different eye-levels if you're making more than one — will make it easier to know if the holes are being used.
After several years, redrill the holes and soak the nest block for 30 minutes in a solution of water and bleach. Rehang the bee condo after it's dry.