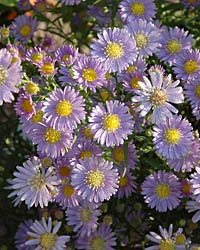 Numerous asters, including some outstanding cultivars, are available to gardeners today for both cultivated and meadow gardens. For cultivated gardens, the Aster x frikartii is a loose 2- to 3-foot plant that blooms for several weeks in late summer with fragrant lavender, yellow-centered flowers. Two recommended cultivars at the Chicago Botanic Garden are 'Monch' and 'Wonder of Staffa'. The New England aster, Aster novae-angliae, also has multirayed flowers with yellow disklike centers. One of the most popular cultivars is 'Alma Potschke', a tall, brilliant pink that lights up the fall garden. The best purple is 'Purple Dome' and a good white choice is 'Mt. Everest'. The New York aster (Michaelmas daisy),Aster novi-belgii, can grow between 3 and 5 feet and is more at home in naturalistic sites; but there are several cultivars selected for their shorter stature. 'Professor Kippenburg' is 9 to 12 inches with lavender, yellow-centered, semidouble flowers. 'Snow Cushion' is a good short white, and 'Pink Bouquet' is a 1-foot plant with rose pink flowers.
Before trying any new aster, make sure you have the proper conditions necessary for optimum growth. Asters grow best in full sun with good air circulation. Overly crowded plantings or those sited in partial shade are susceptible to powdery mildew. Taller species will quickly flop when grown in less than full sun. The soil must be well drained in both summer and winter. Areas that retain winter moisture might promote root rot. The tall asters should be pinched back regularly (like chrysanthemums) until late June. Even though this produces sturdier plants, the sprawling types will still need staking. Gardeners who grow asters often mulch the plants over winter for added protection.
No group of plants celebrates fall with more enthusiasm than the aster family. Goldenrods, tall coreopsis, and ironweed burst with life just as many garden plants are slipping into dormancy. As backyard mums and asters enliven the Landscape Gardens with a final show of color, a more reserved display takes place in natural areas. Amid relatives including rough blazing star, sawtooth sunflower, and stiff goldenrod, the New England aster is a prominent element in the color scheme of the fall prairie.
New England aster (Aster novae-angliae) is native to North America and occurs frequently in wet to mesic prairies of the tallgrass region. At 4 to 5 feet tall and 3 feet wide, this aster creates a stately presence. Its 1- to 2-inch flowers occur at the ends of branching stems and are comprised of bright yellow disk flowers encircled by vivid purple (occasionally pink) ray flowers — an arrangement unique to the aster family. This striking juxtaposition of color punctuates the fall prairie with a welcome purple accent in the sea of yellow sunflowers and goldenrods.
Though less ostentatious than cultivated mums and asters, the New England aster provides one of nature's most vivid color combinations, best enjoyed in the serene setting of the tallgrass prairie. Visit the Chicago Botanic Garden's Dixon Tallgrass Prairie in autumn to view over 20,000 New England asters in bloom and see for yourself why fall is such a special time in the prairie community.