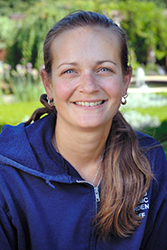 English Walled Garden
West Flower Walk
McGinley Pavilion
Runnells and Searle Courtyards
Dwarf Conifer Garden
Waterfall Garden
Sensory Garden
Circle Garden
Lakeside Gardens
Heather Sherwood is the senior horticulturist for the Helen and Richard Thomas English Walled Garden. She also is responsible for the West Flower Walk, McGinley Pavilion, Runnells Courtyard, and Searle Courtyard; she coordinates and oversees the maintenance of the Dwarf Conifer Garden, Waterfall Garden, Sensory Garden, Circle Garden, and Lakeside Gardens.
Sherwood has been with the Garden since 2000, when she started out as a grower for the Plant Production department. She was promoted to supervisor of specialty areas in 2003 and then moved into her current position in 2005. Sherwood shares her passion for and knowledge of gardening with the public by leading tours, giving demonstrations, and teaching a wide variety of classes for the Joseph Regenstein, Jr. School of the Chicago Botanic Garden. Sherwood appears regularly on the "Keeping It Green" television segment on ABC 7.
Sherwood has been involved in horticulture since, at age 12, she started working at a cut-flower farm was across from her home in Maryland. She received a bachelor of science degree in horticulture from Iowa State University in Ames, Iowa. Before working at the Garden, she was employed by Brookside Gardens in Wheaton, Maryland, and at Holub Garden Center in Ames, Iowa.