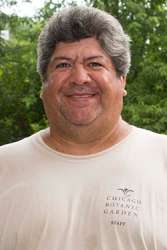 Foreman, Grounds Department
Manuel Sanchez joined the Grounds Department in 1987 as a seasonal employee. He was soon promoted to assistant heavy equipment operator with the Construction and Maintenance department. From there, he worked as an assistant electrician for many years. In 1994, he was promoted to foreman in the Grounds department. 
He also works as a lead heavy equipment operator and on the landscape waste program. Under the program, all of the Garden's landscape waste is recycled, along with 6,000 cubic yards of fall leaves from the village of Glencoe. In other duties, Sanchez teaches pruning and landscape techniques for the Joseph Regenstein, Jr. School of the Chicago Botanic Garden in both English and Spanish.
Sanchez grew up in Uriangato, Guanajuato, Mexico. He has a technical degree in industrial mechanics from Instituto Tecnológico Regional de Celaya and a technical degree in auto mechanics from Centro De Capacitacion Para El Trabajo Industrial Num. 89 in Celaya, Guanajuato, Mexico.