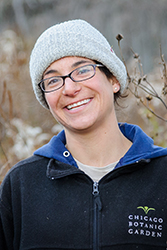 The Crescent
The Esplanade
Native Plant Garden
Farwell Landscape Garden
Graham Bulb Garden,
Aquatic Garden
Viburnum Walk
Liz Rex is the horticulturist for the Crescent, which welcomes visitors entering the Garden from the Visitor Center; and the Esplanade, which is the lawn area where music events such as Dancin' Sprouts and Hot Summer Nights are held. Rex also cares for the Native Plant Garden, which showcases plants native to Illinois, and the Landscape Garden, which is a designed at a smaller scale to be relevant to the typical homeowner. She is also responsible for overseeing and coordinating the maintenance of the Graham Bulb Garden, Aquatic Garden, and Viburnum Walk.
Rex graduated from the University of Wisconsin, Madison, with a bachelor of science degree in horticulture. She has worked at the Garden since 2003, when she began work as a seasonal assistant horticulturist for the English Walled Garden and Lakeside Gardens. Rex was promoted to full-time assistant horticulturist for Evening Island in 2004 and then to horticulturist for the Crescent, the Esplanade, and Native Plant Garden in 2005.She became responsible for maintaining the Landscape Garden in 2013.Rexenjoys teaching hands-on gardening classes such as Gardening Techniques and Holiday Centerpiece Arranging. She also enjoys giving tours of her garden areas to visitors and staff.