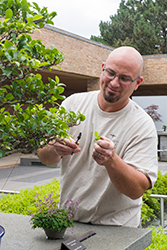 In April 2014, Chris Baker began work as the first full-time curator of bonsai at the Chicago Botanic Garden, where he maintains approximately 175 bonsai trees.
Baker has been studying and working on bonsai for more than 13 years. Previously, from 2011 to early 2014, he was an intern and volunteer at the United States National Arboretum's National Bonsai and Penjing Museum in Washington, D.C. As an active member of the Maryland bonsai community, Baker gave many demonstrations and talks at the Potomac Bonsai Association Spring Show in Washington, D.C., as well as to garden clubs. Baker spent six months in 2012 studying bonsai with third-generation bonsai master Tohru Suzuki at the Daijuen Nursery in Okazaki, Japan.
Baker has always had an interest in horticulture, but his introduction to bonsai started with his purchase of a bonsai juniper as a gift for a friend. When asked why he is so passionate about bonsai, Baker says, "Bonsai is a representation of the beauty and power of nature; it's the perfect mix of artistry, horticulture, and mechanical skills—it's living art."