You know all those shiny vinyl, plastic, and rubber costumes that are made so cheaply and cost so much? The ones beckoning from cluttered shops to which you have to drive, using up gas and your precious time? Fuhgeddaboudit!
Do yourself, your kids, and the environment a favor by sticking close to home and engaging your creative side this Halloween. Not so creative? Uninterested in spending hours sewing complicated costumes? Not to worry. Here are some tips from the Garden that are easy, quick, and—best of all—effective.
Now go grab some empty pillowcases. How easy was that? Goodbye to plastic pumpkin candy carriers! Your kids can lug around their loot in a traditional fabric container. They can use paint or markers on their pillowcases to make them as cute (or creepy) as desired. And let's not forget the recycling potential of those handy old sheets, which make delightfully quick-and-easy ghosts.
Now put on your thinking cap as you look over those items in your recycling bins. The big cardboard box? A Rubik's Cube, perhaps, or a walking box of, say, a favorite cereal. Cardboard boxes are also ideal for making robots. It may take some paint or markers and get a tad messy, what with cutting holes out and dabbling around, but it's quality bonding time with the kids!
---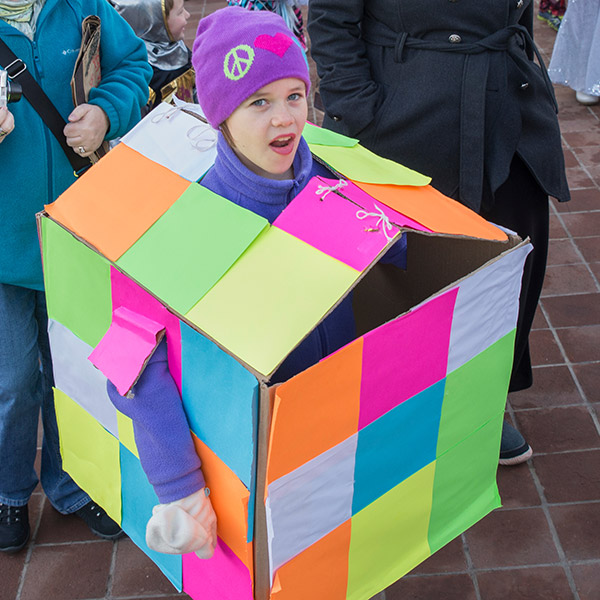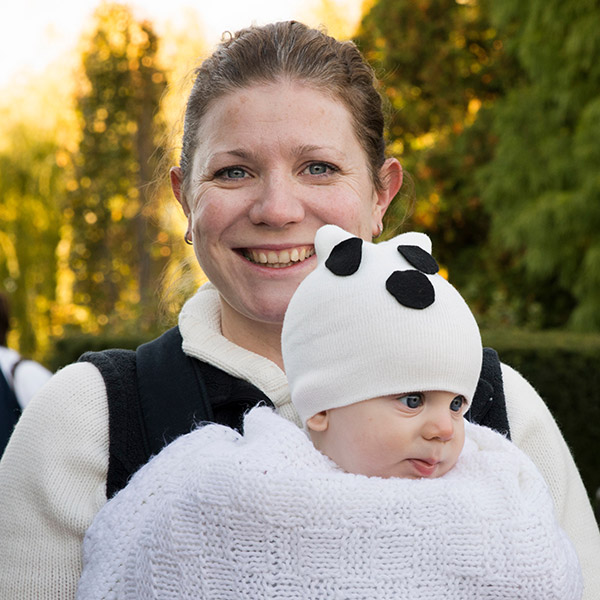 ---
Empty milk jugs? Tin cans? Think carton helmets, or milk jug luminaries lighting the way to your front door; tin cans can become lanterns or Franken-decorations. There are also inexpensive and recycled costume options in a secondhand clothing store. Head for the section of used formal and prom dresses. While you're there, why not pull together a 60s, 70s, or 80s look for your son or daughter? One mother found a Hawaiian muumuu, straw beach bag, and huge sunglasses, and ended up looking very tropical as she escorted her trick-or-treaters around the block. Some costumes may not even require a trip to the secondhand store: torn pants and t-shirts that don't fit can be "distressed" to create a hobo or scarecrow costume.
Don't forget the fun "green" possibilities of making a biodegradably constructed and filled Halloween Feely Box. Find a box that you can cut a hole into just big enough for the average child's forearm to fit through. (Shoeboxes work well.) Now fill it with little bowls of creatively conceived items that will deliciously scare them. Some ideas: bat livers (a chopped can of mushrooms); dragon droppings (chocolate-covered raisens); monster eyes (peeled grapes in gelatin); worms (cooked cold spaghetti); zombie hair (a piece of fake fur); and witches' toes (small sweet pickles).
Remember when you purchase your pumpkins, cornstalks, straw bales, and other natural decorative material to buy locally, and if possible, organically. Organic Halloween candy is harder to come by, but there are varieties available, such as YummyEarth and College Farm, among many others.
Plan to visit the Garden for some seasonal fun at Night of 1,000 Jack-o-Lanterns. You also won't want to miss the annual Spooky Pooch Parade. Have a frightfully good time!