January 28, 2018, 1:30 p.m.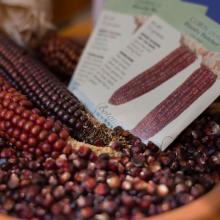 Free event, preregistration required
Keynote speaker Rowen White is the director and founder of Sierra Seeds, a member of the Mohawk community of the Akwesasne, and a passionate activist for seed and food sovereignty. Hear powerful and inspiring stories of the rematriation of traditional seeds with indigenous communities as she shares the beautiful seed legacy of the indigenous people of this land. Discover how you can also connect with the seed legacy of your own ancestry. Lecture is free; regular parking fees apply; preregistration required.
Alsdorf Auditorium